The Rechargeables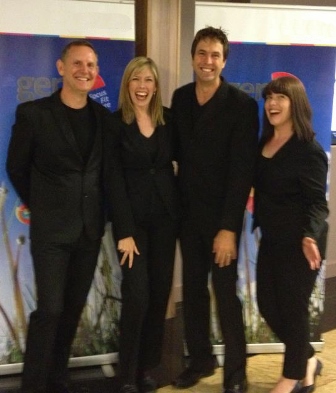 Improvisational Comedy
The Rechargeables are the industry leader in corporate entertainment offer their popular Comedy Impro Show starring Australia's cream of improvisation and comedy talent.
The team from The Rechargeables present active, high energy and fun impro games and workshops. The Rechargeables underlying message is that one person on their own will never achieve as highly as a team of committed individuals.
The Rechargeables team focus on the skills of improvisation which reinforce the power of listening, accepting each others ideas and communicating. Culminating with a performance by delegates, The Rechargeables show demonstrates the necessary skills needed for teams to achieve their goals. Hilarious and educational, the workshop will leave your audiences in stitches while providing valuable skills to implement in the workplace.
The Rechargeables team have numerous years of television, radio and international teaching and tournament experience – so you can be guaranteed of a slick, stylish and professional event other companies just can't match.
The Rechargeables MC is Donald Mackee. From the moment he enters the room, Donald will have any audience laughing. His skills as a host and MC are matched only by his ability to make people laugh. A former finalist of the "Comic of the Year" competition, Donald has over ten years experience on the Australian and International comedy scene, and over twenty years experience in modern contemporary dance.
The Rechargeables team of professional comedy improvisers will provide your event with an interactive and totally unique entertainment experience … and remember – it's hilarious!
Client testimonials
The Rechargeables makes communication come alive as they take you on a fun-filled unpredictable journey through the unknown.
-Group Training Australia
Left the audience howling for more!
-Health Services Union
The group are clever, witty, polished and entertaining.
-Results Plus