The Rat Pack's Back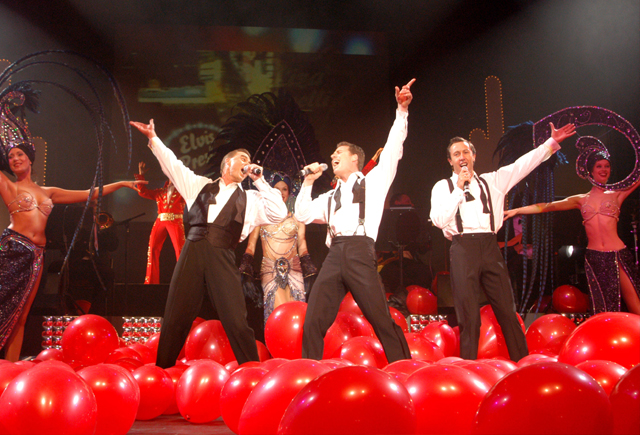 Unique Cabaret Act
Australia's very own Rat Pack has burst into the corporate scene in a tight, polished, tongue-in-cheek cabaret act evoking the style of the infamous American Rat Pack.
Performing some of the world's most loved songs, The Rat Pack's Back present a fully choreographed, audience-interactive show starring some of Australia's brightest talents.
Already having worked extensively in the corporate arena with The Three Waiters, Dale Burridge, David Malek, Simon Pryce and Michael Falzon have created The Rat Pack's Back. Together, three of the team sing and dance up a storm with some of the world's most loved songs made famous by Frank Sinatra, Dean Martin and Sammy Davis Jnr.
Come Fly With Me; You Make Me Feel So Young; Volare; New York, New York; The Lady Is A Tramp; One For My Baby; What Kind Of Fool Am I; When Somebody Loves You; I'm Gonna Live Until I Die; My Way…
With masterfully recorded backing tracks, The Rat Pack's Back recreates the sound of the Big Band era in a dazzling show. Dressed to the nines, the three gentlemen venture into the audience with witty one liners and soaring vocals, standing on chairs and even getting a lucky few up to dance! The act reaches its climax with a fully choreographed rendition of the classic New York, New York.
Each of the performers in The Rat Pack's Back has worked extensively all over Australia and throughout the world in major musical theatre productions, concerts and corporate events. Between them, they have starred in such shows as The Phantom of the Opera; Les Miserables; Aspects of Love; Joseph and the Amazing Technicolor Dreamcoat; Anything Goes; The Sound of Music; Hello, Dolly!; Side By Side By Sondheim, Cats, and Witches of Eastwick, to mention just a few.
Whether at a cocktail party or in a grand ballroom for a thousand, The Rat Pack's Back provides entertainment at its most sophisticated and elegant.
Client testimonials
Absolutely sensational. You're terrific.
-Mr John Howard, Former Prime Minister of Australia
I love your new show. I didn't know you could dance!
-Honorary Ambassador Janette Howard
You gave the night a real kick!
-Sir Bill Brown – Australian Test Cricketer