The Honourable John Howard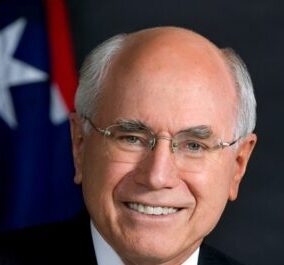 Former Prime Minister of Australia
The Honourable John Winston Howard served as the 25th Prime Minister of Australia from March 1996 until November 2007 and is Australia's second longest serving Prime Minister. Mr. Howard led the centre/right Liberal Party of Australia for a total of 16 years. He was a member of the House of Representatives for 33 years. Prior to becoming Prime Minister, Mr. Howard had extensive senior experience in both government and opposition. He served as Treasurer (finance minister) in a previous government and led his party in opposition for a number of years.
Mr Howard delivers insightful presentations on a broad range of topics that include the global economic future, the role of leaders in a new century, international relations, international security and Australian business.
More about The Honourable John Howard:
Under Mr Howard's leadership, Australia enjoyed continued economic growth averaging 3.6% per annum. His government delivered major economic reform in the areas of taxation, workplace relations, privatisation and welfare. $96 billion of government debt was repaid during the time in office of the Howard Government. When it left office in November 2007 the Government of the Commonwealth of Australia had no net debt, and its budget was in surplus. This strong fiscal position was a major reason why Australia suffered relatively few consequences from the global financial crisis.
Under John Howard's leadership Australia strongly supported the United States and other nations in the fight against terrorism. Australia contributed military forces to operations in both Iraq and Afghanistan. Australia also led the United Nations sanctioned Interfet force following East Timor's vote for independence. The Howard government strengthened bilateral ties between Australia and many nations in Asia. During Mr Howard's time as Prime Minister China became Australia's largest export destination.
Mr Howard is a Companion of the Order of Australia and was awarded the Presidential Medal of Freedom, the highest civilian award in the United States by President George W Bush. In January 2012 Queen Elizabeth II appointed Mr Howard to the Order of Merit. In 2013, on the recommendation of the Japanese Government, he was awarded the Grand Cordon of the Order of the Rising Sun.
Mr Howard is a fan of many sports, particularly cricket and rugby. He plays golf regularly.
The Honourable John Howard talks about:
What is Needed to Deliver Australia's Economic Recovery
My Life as a World Leader
World Leaders That I Have Met and Their Top Leadership Qualities and Attributes
International Relations with China and "Where to From Here"
Three Great People in the World That I Have Met and Why (anecdotes)
Three Great Australian Businesses That I Admire
Which Country's Economy Australia Should Keep Its Eye on in the Next 24 Months and Why