Tenors Undercover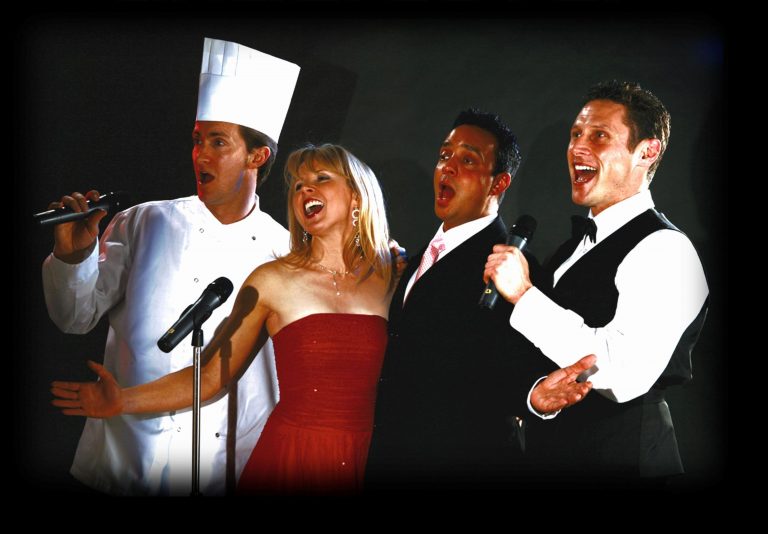 Entertainment to take you by surprise!
Surprise and delight your guests with Tenors Undercover!
By popular demand, this act takes Surprise Entertainment to a whole new level: an international guest speaker, a charity auction, a celebrity chef and a one-off show, tailored especially to your function's theme.
Your surprise evening, could go something like this… "Tonight your keynote speaker is the best-selling Scottish author Roydon McTaggart, whose rags-to-riches story will inspire and impress…"
Seated at an adjoining table is Tony Bonacci, a successful restaurateur (and good friend of the event organiser) famous for singing Opera to his dinner guests. Purely by chance, Tony is asked by some of your guests to get up and give a demonstration, which he does.
When asked, "How do you sing like that – is it difficult?" Tony offers to show how easy it is, by giving somebody a free singing lesson. As luck would have it, Roydon McTaggart puts his hand up, and what begins as a hilarious debacle of Scottish proportions, ends when a Chef appears suddenly from the kitchen and helps them sing a magnificent Il-Divo style rendition of "My Way"…
This show is designed to be tailored to your event – featuring themes, topics, even songs that represent the key message of your function. Cast members will be selected from our brilliant roster of male and female performers.
Slick and funny, Tenors Undercover is the perfect "sequel" to The Three Waiters. This is the elegant hoax show that fooled the FBI at APEC 2007!