Sebastian Terry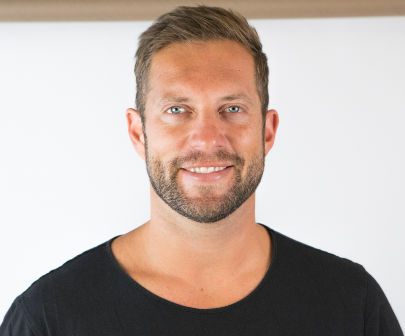 Creator of 100things.com.au
Sebastian Terry is the extraordinary Australian who has become known around the world for pursuing an incredible list of '100 Things' that he wants to achieve before he dies. What began as his own personal quest has grown into 100things.com.au, a global philanthropic movement that engages a growing tribe of hundreds of thousands to not just set meaningful goals, but make them happen, all while helping others do the same. 100 Things is now at the forefront of peer-to-peer giving through its kindness platform; Kindsum.
Sebastian is an engaging, enthusiastic, entertaining and truly inspirational speaker. He's one of a kind, with a unique story that he tells in a refreshing, candid way. Since becoming a keynote speaker – which may or may not have been on his list – Seb has given close to 300 talks, both in Australia and overseas, all of which have garnered rave reviews.
More about Sebastian Terry:
In 2009, at the ripe-old age of 27, Sebastian realised that he wasn't happy and hadn't achieved many of his goals. The death of a close friend combined with a naturally abstract view on life sparked a moment of clarity. In the midst of an overseas trip, Sebastian decided to put pen to paper and re-create a list of 100 Things he'd always wanted to achieve. His goal: to tick off everything. It was the start of a crazy, no-holds barred adventure that has seen Sebastian travel to the ends of the earth on a quest to prove that anything is possible, including true fulfillment.Over time, what started as one man's journey to find purpose in life has grown into a global movement of people chasing their dreams. Following his heart and armed with nothing but a list and minimal savings, Seb has gone on to inspire people and organisations worldwide. Today he engages with a growing tribe of hundreds of thousands introducing those in need of help to those who are able to help. In this way, the journey has become less about Sebastian's list and more about the art of helping – he spends his time traveling the world connecting strangers to help each other.
Today Sebastian and his organisation, 100 Things inspires people and organisations to gain perspective, think big and be the best they can be on every level so that others can follow suit. The concept has been turned into a best selling book, 100 Things, an ESPN documentary 100 things to do before you die, and most recently a US-based 26 episode reality TV show 100 Things, during which he travels the world helping complete strangers achieve their specific dreams.
Sebastian is a current national ambassador for Make-A-Wish Australia. He has raised over $400,000 for various charities as part of his challenge including Camp Quality and Alzheimers Australia
Sebastian Terry talks about:
Sebastian's keynote, 100 Things, has been delivered on all seven continents and to over 250,000 people.
During this riveting keynote, he tells his unique, action-packed story while integrating the principles of goal setting, altering mindset, benefiting from change, the art of achievement, opportunity creation and helping others, and takes his audiences on a wild ride.
From marrying a stranger in Las Vegas to delivering a baby in Canada and pushing a man in a wheelchair for a half marathon event, Sebastian tells how lives have been turned around and saved.
Sebastian Terry's story is surprisingly not about a bucket list. It's about something more far reaching: permission, choice, growth and connection. His presentation is guaranteed to make your audience laugh, cry and be inspired to put together their very own list.
Sebatsian's 100 Things workshop is also available as an extension to the keynote.
Client testimonials
Sebastian Terry provides the perfect mix of a thought provoking message delivered in an engaging, energetic and humorous style that will set an upbeat tone for a great event … His tale of fulfilling 100 goals (serious and quirky) awakens a simple and effective message that is applicable and relevant to any business environment or audience. The response to Sebastian's presentations has been overwhelmingly positive. We continue to receive comments about how much his presentation is enjoyed. Without a doubt, Sebastian is one of most entertaining and popular speakers we have experienced. Sebastian, thank you for sharing your message with us. You have actively inspired our stakeholders - clients, accountants, financial advisers and staff.
-PIS
Sebastian, your presentation was uplifting, entertaining and thought-provoking. The 7am presentation could have easily been a challenging task, but you captured everyone with your energy, passion and humility. The 100 Things concept is such a refreshing topic, and one that should be shared with all! Since your talk, there's been lots of discussion around the office about what's on everyone's lists! I would happily recommend you to any group looking for an engaging, one-of-a-kind speaker.
-Warringah Council
Sebastian presented at our annual event for the highest achievers in the company. When looking for a motivation speaker, I couldn't go past Sebastian Terry's story. Not only was his story different to those on the speakers circuit at the moment, but he is such a personable character you can't help but be captivated by the enthusiasm he has for his quest and for the reasons behind doing it. It stirs that passion of wanting to achieve more in your own life. Fantastic!
-Telstra
First and foremost, thank you! Thank you so much for being such a wonderful presenter / guest speaker throughout our 2013 International Series. From filtering through our feedback forms, you've been described countless times as motivational, inspirational, thought provoking and an eye-opener. For a session with the objective of encouraging goal setting amongst our clients, this type of feedback was exactly what we were after, so we really appreciate your efforts in tailoring your story / presentation to suit our objectives.
-Suncorp
Thank you for your fantastic presentation at last week's Guardian Conference in Hawaii. The feedback that I have received from everyone who attended has been nothing short of outstanding. Your presentation was informative, entertaining and most of all, inspiring, and I know many people throughout the remainder of the conference kept your amazing journey in their minds and will hopefully take the time to achieve some of their own goals.
-Guardian