Sean Choolburra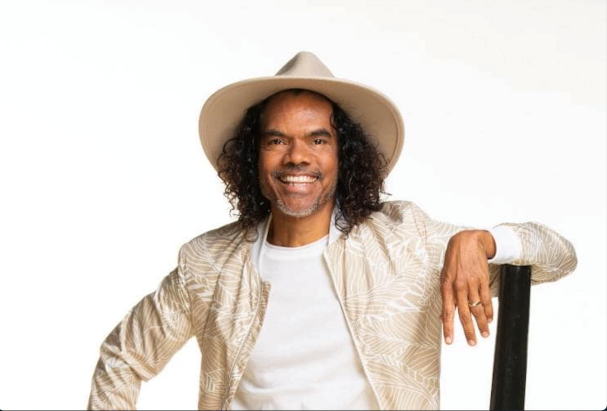 The Godfather of Indigenous Comedy
Sean Choolburra is recognised as one of Australia's funniest and most enduring Aboriginal comedians. Born in Townsville, QLD, and one of twelve, his comedy is created from a wide variety of life time experiences, stories, and observations.
Sean provides solo cultural performances, workshops to schools, communities, and corporate organisations. With a unique comedy style, built on story telling rather than profanity, his performances are suitable for audiences of all ages.
Sean is an ambassador and the communicator of positive messages for health, education, and employment, which has seen him promote "No Smokes" and tobacco campaigns, employment messages for Indigenous Jobs Australia, Fred Hallows Trachoma Program, Stronger Smarter and much more.
More about Sean Choolburra:
A proud Aboriginal man, Sean maintains and practices the cultural traditions of his father's people the "Girramay" and his mother's people the "Kalkadoon, Pitta Pitta and Gugu Yalanji", which he draws on when he delivers cultural workshops and shows.
Sean's amazing career in comedy began in 2002 when he represented NSW in the Raw Comedy National Grand Final. Some of his milestones and career highlights include hosting two seasons of NITV's Express Yourself, appearing on The Footy Show, Thank God You're Here, the Squiz, Yarramundi Kids, In the Frame with Rhoda Roberts, Show us Your Roots, Melbourne International Comedy Festival Gala, and Nova's Pop Up Stand Up Comedy. His attitude and work ethics has seen him perform all over the world, and by special invitation perform for the Dalai Lama, Hale & Pace, and HRH The Prince of Wales – Prince Charles.
Sean's career has seen him perform at Dreaming, Woodford, Adelaide Fringe, Boomerang, Homeground, and Yabun Festivals, and major events such as Melbourne International Comedy Festival Roadshow, Edinburgh Fringe Festival, ABC2 Comedy Up Late, Hong Kong Frindge Festival, Melbourne International Comedy Festival's Deadly Funnys, Storytellers Festival in Scotland, National NAIDOC Ball, World Indigenous People's Conference on Education (WIPCE), Deadly Awards, and the NRL Indigenous Games.
Sean was the founder and leader of Sydney's first independent traditional Aboriginal and Torres Strait Islander dance company, the Ngaru Dance Company which he formed in 1993 which have become the well known dance troupe Descendance. He is a graduate of NAISDA College and has danced with the internationally renowned indigenous contemporary dance troupe Bangarra Dance Theatre. Sean also opened Sydney's Plant Hollywood with Richard Wilkins in 1996.
As a member of the Black Cockatoo Dance Company he has performed in New York, America and Chengdu and Chongqing in China.
Sean was engaged as the Traditional movement and language consultant for the Award winning theatre production The Drover's Wife, and the choreographer of the War Cry song and dance for the NRL Indigenous Team.
Sean is known for his wit, energetic delivery, improvisations and non-stop dance moves. His recent work includes hosting his own TV series, Express Yourself on NITV, and special guest roles on ABC's Playschool and children's television program Bluey. More recent credits include roles in comedy series Black Comedy on ABC, and soon to be released feature film The Furnace.
Sean has recently travelled to New York, America and Chengdu and Chongqing in China doing cultural performances.
Client testimonials
Wow!
-Charleville and Western Areas Aboriginal & Torres Strait Islander Corporation for Health
A winning formula of stand up, funny stories & DEADLY dancing.
-Adelaide Advertiser
Sean was fantastic. His humour, acting and didge playing was awesome. His message of anti-racism and reconciliation was wonderful. His performances revealed a wonderful, warm and caring person. He included the kids, and took aside a young lad with low selfesteem. He is now walking on cloud nine.
-Tom Leach
Think Will smith meets Skippy the Bush Kangaroo, a thoroughly entertaining show of infectious energy & hypnotic tales.
-Three Weeks Daily, The Edinburgh
...tells stories of his life that hilariously incorporate music and dance.
-The Age