Sandman – Steve Abbott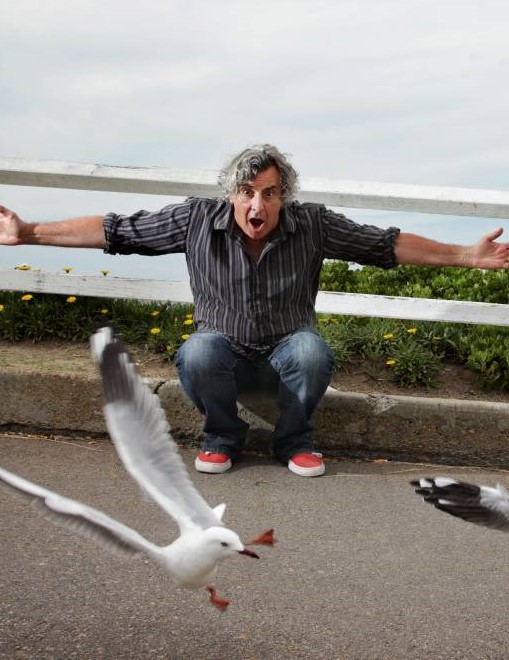 aka Stephen Abbott, comic performer, broadcaster & writer
Stephen Abbott is an enduring part of the Australian comedy landscape. While performing regularly as the Sandman or 'Sandy', Stephen has also found time to become an accomplished live performer, radio presenter, writer and actor. He has even turned his hand to bingo calling and hosted his own television tonight show.
Stephen wrote and starred in his own tonight show called In Siberia Tonight which was commissioned by SBS TV. Also for SBS, Steve hosted Under The Grandstand which was their entertainment/interview companion piece to their huge rating coverage of the Ashes Tour of England by the Australian Cricket Team.
As the Sandman, Stephen has performed on a number of different radio programs, including: ABC radio serial The 21st in 2003; Triple M's Breakfast Show with Amanda Keller, Mikey Robins and Peter Berner in 2002; a radio serial called Sun Struck Guest House broadcast nationally on ABC radio in 2001/2/3; Triple J's Breakfast with Adam and Wil and Triple J's Drive show with Merrick and Rosso, in 1999-2000; Sandy also cohosted Triple J's Breakfast program with Mikey Robins and Jen Oldershaw in 1998 and in 1997 with Mikey Robins and Paul McDermott, before which he wrote and performed daily comedy segments for the Triple J's Breakfast show from 1992-until 2000.
Stephen regularly performed as Sandy on TV programs, such as The Fat on ABC TV, Good News Week, Good News Week Lite, Good News Weekend and in two TV specials with fellow comedian Flacco for Network Ten, and his own special on Network Ten in 2002, Speed of Doubt. Stephen and Paul Livingston (aka Flacco) have developed a strong rapport and commonly perform together as Flacco and the Sandman, both on TV and live on tour.
Stephen's TV work has also included David Caesar's documentary Fences and a documentary for SBS called Sandman in Siberia where Stephen and his mother return to the place where his grandmother was born.
As well as TV work, Stephen has acted in films including You Can't Stop the Murders (2002), Children of the Revolution (1995), Car Crash (1994), The Castanet Club – A Movie You Can Dance To (1991) and Young Einstein (1988).
Stephen has undertaken extensive live stand-up tours of Australia including: the Rat Pack Tour (with Paul McDermott and Mikey Robins, 2000 – 2004); Flacco and the Sandman (Brisbane 2002 & Regional NSW 2001); as well as In the Corridors of Uncertainty (National tour in 1994-5); and he was a founding member of The Castanet Club between 1982 and 1989.
Stephen Abbott's writing credits include 7 books: The Diary of a Bus Clown, 204 Bell Street, Pleasant Avenue, Observations from a Moving Vehicle, This is My Surfboard, Sandman's Advice to the Unpopular (ABC Books); and Big Man's World (Random House) co-written with Tony Squires and Mikey Robins.
His theatre credits include two musicals, which were both commissioned by the Australian Literature board: The Coast Mongrels; and, The Headbutt (which he co-directed for Company B's subscription season in 1992); The latter work has been performed In Newcastle by the HVTC, in Wagga Wagga by Riverina Trucking Co, Belvoir St Sydney and in Zimbabwe. Most recently Sandman, Flacco and The Non-Seekers performed a sell out season at the Adelaide Cabaret Festival and prior to that at the Sydney Opera House with their hit show What's Wrong with Bingo?