Rhythm Untapped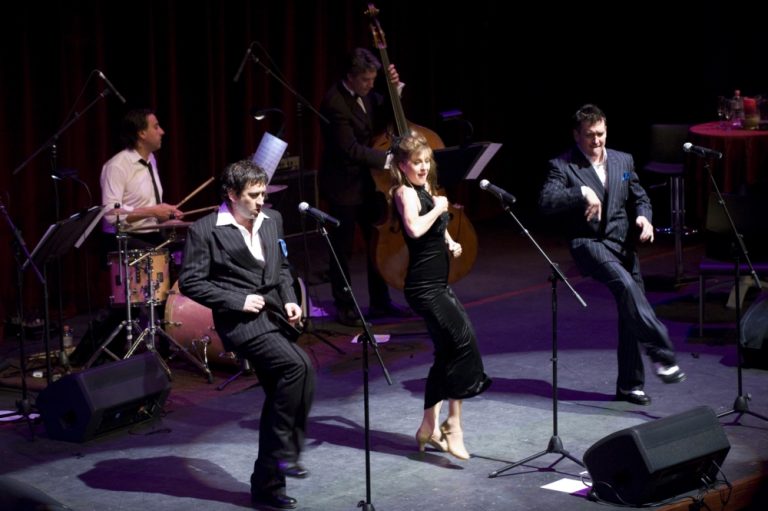 A brilliant fusion of jazz, swing and cabaret
Rhythm Untapped features the very best tap dancers/ singers in the country in a brilliant fusion of jazz, swing and cabaret, crammed with an eclectic repertoire of popular music from every era.
With their truly engaging showcase of highly choreographed energetic tunes, Rhythm Untapped stimulates audiences of all ages. Close harmonies, clever dance routines and impeccable musicianship makes this all-singing, all-swinging, all-tapping trio the hottest band in the land!
The stars of Rhythm Untapped:
Christopher Horsey

 – Christopher Horsey won the Fred Astaire International Tap And Jazz Championship (Waldorf Astoria, NYC). He has performed in concert with Frank Sinatra and alongside Stevie Wonder in Quincy Jones, 50 Years In The Business. An original castmember of 42nd St, Chicago and Singin' In The Rain, Chris also played Big Deal in West Side Story. Chris created the role of "Tip" in Hot Shoe Shuffle (Australia, UK, Japan & NZ) and was a guest artist at The Olivier Awards at the London Palladium. As a founding member of Tap Dogs, his performance at Union Square Theatre, New York earned him a Village Voice Obie Award. Chris starred as 'Angus' in Fox Searchlights Bootmen, choreographed Mosh starring Paul McDermott for the Adelaide and Melbourne ComedyFestivals, and Jive Junkies playing Edinburgh Fringe Festival (winning a Pick Of The Fringe Award), and was choreographer on Changi for the ABC.
Mandy Carnie

 – Since 1988, Mandy has performed in major musical productions as a singer, dancer and actress. After studying at the Victorian College of the Arts (VCA) Mandy was cast in Cameron Macintosh's Australia/New Zealand tour of Cats, going on to join the Hamburg company. She toured with Tina Arena before being cast by Ross Coleman as the leading lady in Live from the Roosevelt at Conrad Jupiters Casino ahead of joining Gordon/Frost's production of How to Succeed in Business Without Really Trying. Other theatrical credits include the role of 'Val' in Kevin Jacobsen's production of A Chorus Line, Sandy in Gordon/Frost's Grease, as one of The Fabulous Singlettes the national tour of The Mikado, and The Hunting of the Snark at Melbourne's State Theatre. After playing the role of Nicki in Sweet Charity, Mandy choreographed and danced in the Australian tour and Canadian season of Frank – A Life in Song with her husband Tom Burlinson.
Drew Anthony

 – Drew Anthony most recently directed Olivia Newton-John & Friends in concert at Sydney's State Theatre, Sony's IFA world trade fair in Berlin, and choreographed the world premiere of John Williamson's Quambatook – the Australian folk musical. He has appeared as The Narrator in Sondheim's Putting it Together; directed Disney's High School Musical for CQCM and served as David Atkins' Associate Artistic Director for the 15th Asian Games in Doha, Qatar. Drew's career highlights include choreographing/performing in the film Happy Feet; choreographing both the world premiere of the West End musical Jailhouse Rock and Opera Australia's acclaimed production of Orpheus in the Underworld. In 2002 he toured the country (33 cities!) as Associate Director/ Choreographer/Producer and star of Hot Shoe Shuffle, and was Associate Director/Choreographer of both the David Atkins/IMG production of Singin' in the Rain and the Australian tour of Buddy – The Musical. Drew has worked as either Associate Director or Choreographer on national tours of Pirates of Penzance, Me and My Girl, Jolson (Mo Award Nomination), 42nd Street, Closing Ceremony of the 2000 Sydney Olympics, and the USA and UK tours of Hot Shoe Shuffle. He is a Principal of Australia's foremost studio for the performing arts – Brent Street.
Client testimonials
Fancy feet aside, the real highlight is the well-rehearsed vocal harmonies that blended beautifully song after song. This is popular music at its very best.
-Sydney Morning Herald
It's like a dose of fun has slapped you in the face... I wanted to get up on stage with them!
-Rozelle Bay Superyacht Marina - at the Ocean Ball
The crowd was absolutely spellbound, into it from start to finish. The tap was awesome, the vocals world-class and the band red hot!
-Shoalhaven Entertainment Centre NSW