Poppy Starr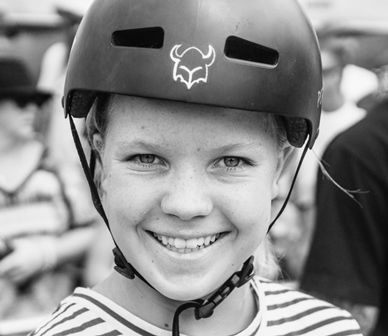 International Pro-Skater & Inspiring Speaker for Young People
Poppy Starr is a professional skater who competes on the International Pro Competition circuit, a circuit usually dominated by men twice her age.
Noted for her TED talk at the age of 14, Poppy has become one of the most booked young speakers in Australia, inspiring young people to find their passion. Her talks are peppered with great practical advice for young entrepreneurs, drawn from her own experience finding ways to fund her passion.
More about Poppy Starr:
A passionate pioneer for women skaters in Australia, Poppy Starr was voted as one of the Top 12 Most Influential Girl Skaters in the World of 2012 at the age of 13.
By the time she was 15, Poppy was an international elite pro skater and younger than most of her competitors competing in the open division. She continues to out-rank many of her peers both male and female who are almost a decade older than her.
Poppy's talents extend into the art community. A talented jewellery and card designer, the sales of her art helped fund the early stages of her competition career at the legendary Bondi Skate Park. She now has an established business selling her art online and in several stores across the country.
In 2016 Poppy took out first place in her first ever Pro Competition at the Vans Combi-Classic in California. She also achieved first place in the 2016 Australian Bowl-Riding Championships (Open Women), and 5th place in the Vert Attack Open Girls division in Malmo, Sweden.