Phoenix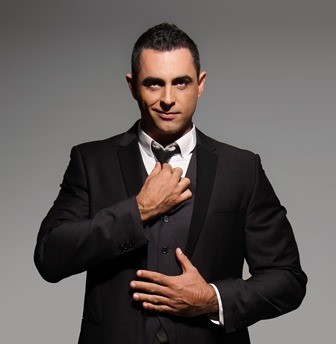 Mentalist & Corporate Entertainer
Phoenix is not your typical roving magical performer. Regarded as Australia's top mentalist, he has blown the minds of local and international celebrities including Hugh Jackman, Taylor Kitsch, Joe Hildebrand, and Fitzy & Wippa.
Phoenix is sought after as a corporate performer, and he regularly performs on major cruise liners. He has been a trainer and consultant on films that include Wolverine, Human Lie Detector and Behave Yourself.
Phoenix has appeared on Australia's Got Talent and World's Got Talent, and he is a regular guest on The Morning Show, Today Show, and Sunrise. His talent has been recognised with titles that include Winner, Melbourne International Festival Best Act 2014 and Winner, Melbourne International Festival Most Popular Act 2015.
Whether you're looking for a quick ice breaking comedy and mind magic show to start a conference, a thrilling water tank escape to keep your audience on the edge of their seats, an astounding session of mind-reading, influence, and mental persuasion or an incredibly funny comedy hypnosis…Phoenix will deliver.
Looking for something more serious? Phoenix is also a highly skilled keynote speaker who discusses the subconscious aspects of business and making change, concluding with a hypnosis demonstration and performance.
Regardless of how you engage Phoenix, you are assured of a professional performance with no swearing, no crass skits, and no humiliating of volunteers on stage. Phoenix has made a name for himself by having his audience in fits of laughter and his volunteers feeling like rock-stars.
Phoenix's live entertainment performances include:
Roving Performances: Mindreading and More! – Phoenix recounts the positive memories of audience members that only the volunteer participant could possibly know. Audiences love being the topic of Phoenix's performance and are astounded as they get to experience this performance up close.
Roving & Comedy Mindreading – Phoenix performs his unique hour of roving, followed by a 10-minute set from his Mind Magic & Comedy Show. This package is fantastic as a quick opener to an evening's proceedings or as an introduction to speeches!
Breathe! – a Full Stage Spectacular! – Phoenix combines his signature thrilling water tank escape (as seen on TV), with his multi-award-winning show Psyche!, along with other Vegas-style entertainment pieces to bring the unique and thrilling stage spectacular known as Breathe!
Corporate Mindreader or Medium@Large – Perfect for awards nights, gala events, and end of year functions, Medium@Large features sophisticated humour blended with some of the world's most jaw-dropping stunts imaginable. This show is tailored to reinforce the prestige or reason for the event. Such is its impact that Phoenix was flown to Austin, Texas for NYE 2017-2018 to perform alongside global rock star, Rob Thomas (Matchbox Twenty) at a high profile gala event.
Comedy Stage Hypnosis Show: Mind Games – This show is clean pure hilarity and it has been hailed as one of the greatest comedy hypnoses shows in the world by some of Royal Caribbean International's most senior stage and production managers.
Psyche – This multi-award winning show, based on 22 years of study, is quite possibly the most psychologically advanced in all of Australia. Entertainment for corporate crowds at its best!
Banned Casino Themed Show – A show designed around the theme of Casinos and how to beat them! Available in three variations: solo; with a cast of dancers; and/or with Vegas style grand illusions, such as the thrilling water tank escape.
Parlour Show – An intimate, engaging performance for small groups up to 40 guests.
Phoenix speaks about:
Reframe, Refocus – Subconscious Aspects of Business – A fusion of hypnosis demonstration and performance, followed by a fascinating look into why hypnosis works, just how powerful it can be, and how to apply the same principles to your own motivation and ability to adapt to change.
Six Regrets – What motivates the Mind Guy, and how by projecting forward then looking back on life, you can discover six regrets your future-self has. In essence, this is hindsight time-travelling.
Memory Techniques of a Mentalist – Memory Training in 1 hour – This session opens with attendees taking a self-test to see their mental capacity for remembering data. At the end of the session, another self-test is taken and the results are astounding!
Client testimonials
Phoenix is FREAKING amazing, you gotta see this!
-Taylor Kitsch (Battleship, John Carter, X-MEN Origins: Wolverine)
Your technique is FLAWLESS, Amazing man, amazing!
-Adam Pedretti (Killing Heidi at the 2004 Red carpet premiere of Spiderman 2 at Fox studios, Sydney)
I heard you were good but that's insane!!!
-Steven Strait (Lead actor 10,000BC)
Excellent, infact extraordinary! Audiences loved the performance, it was the highlight of the night. The interaction added even more to the entertainment. I cannot express highly enough how much of an asset Phoenix is to adding value to any corporate event, if the objective is to provide attendees a memorable experience!
-Konica Minolta
I've never seen illusion performed like that, fantastic, unbeatable!
-Red Symons
Phoenix was incredible. We loved his performance & he stayed on after his show to mingle and perform magic/illusions on our delegates. One of our staff who was a total sceptic was totally amazed at the trick he performed on her - she changed her mind after that.
-Heritage Bank
He's the best, he's amazing!
-Wippa – Fitzy & Wippa Radio Show
Phoenix is a Witch and we need to burn him!
-Joe Hildebrand, Daily Telegraph & Studio 10
I want Phoenix opening for my next Australian tour! If he doesn't get burnt for being a witch!
-Rob Thomas, Matchbox Twenty