Peter Kaye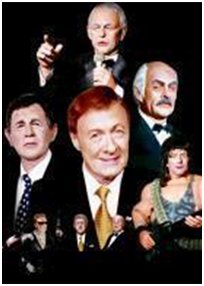 Man of Many Faces
Acclaimed as the "Ultimate Impressionist", Peter Kaye brings famous politicians and entertainers to your conference or business gathering.
Not only does Peter sound like his characters, he looks like them too.  With the aid of life-like latex rubber masks, famous personalities appear before your eyes as Peter changes his appearance, voice and mannerisms to become different celebrities.
Awarded three years running the prestigious Mo Award for Australia's Best Variety Entertainer, Peter's famous impersonations include George W Bush, Bill Clinton, Sean Connery, Rambo, Juan Antonio Samaranch, Boris Yeltsin, Charles Bronson, Dean Martin, Pavarotti, Lieutenant Columbo (Peter Falk) and Alfred Hitchcock.
A leader in his art, Peter is also a talented actor, singer and songwriter.  His extensive credits include appearances at the London Palladium, three years in London's West End with The Black & White Minstrel Show, the London Palladium tour of Canada and tours of The Hilton Hotels with Jack Jones and Dionne Warwick.
He has hosted and compered The Black & White Minstrel TV Show (BBC London), Saturday Night Live (Channel Ten, Australia), starred in Celebrity Squares, Australia Day Live and appeared on almost every major television show in Australia and the U.K.  Most recently he completed a successful tour with The World Masters of Business seminar along with General Norman Schwarzkopf and Mikhail Gorbachev
In demand for functions, product launches and as a master of ceremonies, Peter's clients include National Mutual Insurance, AMP, Australian Pharmaceuticals, Visyboard Australia, Downard Pickford and Apple Computers.
So next time you bump into Sylvester Stallone – think twice – it may be Peter Kaye in disguise.
Client testimonials
Peter's performance was pivotal in making our conference one of the most successful on record. An absolute professional, using wit and impersonations to add life and fun to a conference.
-National Mutual New Zealand
Excellent presentation, first class professional act, a delightful person to deal with, being fully co-operative and willing to assist his clients in any way.
-Allied Pickfords
A superb job, his roll as Master of Ceremonies could not have been performed better, we were all impressed by his ability to ad lib when necessary and keep control of the conference.
-American Express Travel Service