Nedd Brockmann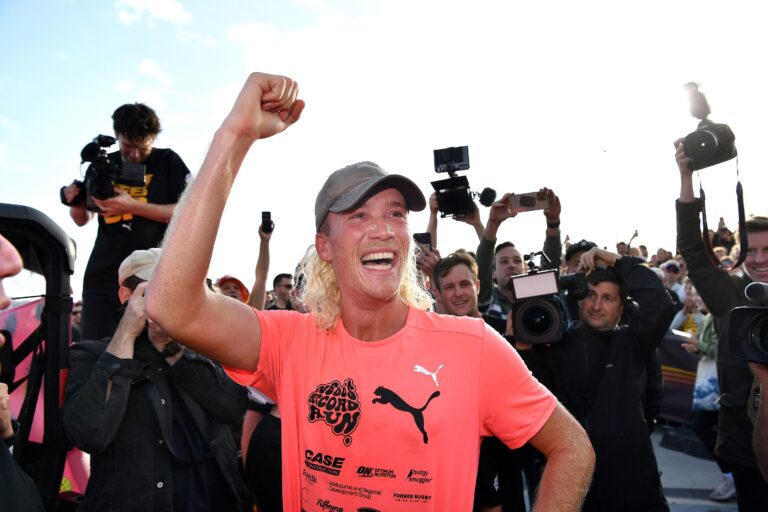 Tradie & Marathon Runner who wants to change the world
Nedd Brockmann is a sparky from Central West NSW that is focused on changing the world one step at a time. Nedd is now the fastest ever Australian to run across Australia, and second fastest in the world having completed the run from Perth to Bondi Beach in 2022, at the age of 23, in just over 46 days – an incredible effort averaging over 80km a day for the near 4000km run.  He embarked on the run to try and raise money for homeless charity Mobilise and set himself a target of $1 million.  The final total raised for the homeless was $2.5 million.
More about Nedd Brockmann:
Nedd Brockmann loves a challenge. And he loves helping others. In 2020 he combined these loves and ran 50 marathons in 50 days – raising just under $100K for the Red Cross to help homeless people.
Nedd Brockmann completed his 2022 run to raise money for We Are Mobilise, an Australian charity that helps people experiencing homelessness. They strive to provide recognition and functional care to the homeless, to educate and raise awareness to the broader society and to be a platform that creates change through connection. Elevating the voices of people experiencing homelessness by offering trust, companionship and conversation to those on the streets.
Nedd grew up in Forbes in New South Wales' Central West region and attended Kinross Wolaroi School in Orange, NSW and graduated in 2016. He then moved to Randwick, Sydney, to work as an electrician, and it was at this time he noticed the high number of homeless people in the city.
During Covid Nedd started running seriously. He began with short runs, then running half-marathon and marathon distances, and then moving onto 60km, 80km and 100km distances.
Nedd heard about someone else "running 50 marathons in 50 days and thought 'why can't I do that?'"
So he did. Finishing the run in 2020 and raising just under $100,000 for Red Cross. Following this success, Nedd then wanted to run across Australia to set a new world record (the current record is 45 days) and raise $1 million for charity.
Nedd's journey started at Cottesloe Beach, Perth on 1st September 2022 and he had to run around 100km a day in order to beat the world record.
During his run, his daily Instagram updates captured the hearts and minds of Australia, culminating in an iconic moment at the finish line on a Monday afternoon, 15 October 2022 at Bondi Beach where more than 10,000 people welcomed him home in an emotional finish that will be remembered for years. He completed the run in just over 46 days.
The support for Nedd came from across all walks of life, from truckies driving past him, farmers, kids doing bake stalls,  council road side workers, roadside diner chefs to celebrities and politicians. He received messages of support from people including the Prime Minister, Jimmy Barnes, Hamish Blake, Carrie Bickmore, Pat Cummins, Ash Barty, global UFC champion Israel Adensanya, Hollywood actor Lily James, Hugh van Cuylenburg and 2022 Australian of the Year Dylan Alcott.
The final total raised for the homeless was $2.5 million, with over $600k raised in the final day, their fundraising total for the previous year was $7,500!
Nedd's relentless focus on never giving up and keep showing up has inspired the nation.  His daily quote of 'get comfortable being uncomfortable' has resonated with all ages and demographics and is driving people and celebrities alike to take on new challenges.  He has an inspiring message that he has lived and breathed and is keen to share it.