Michele A'Court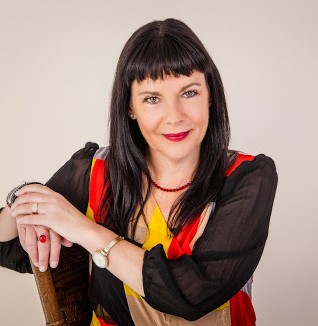 NZ's Funniest Female Comedian
Michèle A'Court has forged a thoroughly deserved reputation as one of New Zealand's funniest women. From NZ television to National Radio, pubs to theatres, corporate functions to live television, her unmatchable audience rapport, cut-throat honesty and razor sharp delivery have reduced audiences to uncontrollable laughter, even when the subject of the joke is themselves.
Michele's solo show, Heritage 101, was awarded Best Show Concept at the Oddfellows NZ International Comedy Festival in 2005, during which time she also hosted the Comedy Convoy throughout NZ.
Other successes include the 2004 Edinburgh Fringe and the 2004 Melbourne International Comedy Festival, and every NZ International Comedy Festival since it's inception 12 years ago. Michele is the winner of the NZ Comedy Guild Awards as Best Female Comedian 2002, 2003, 2004 and 2005, and was a regular on television's Pulp Comedy for the past nine years. She hosted the Laugh! Festival Big Comedy Gala 2000 on TV2, has hosted the female comedians' showcase Divas annually in both Auckland and Wellington, and hosted New Zealand's comedy Oscars, The Billy T Awards on TV2 in 1998. Her earlier work is currently screening on the Comedy Channel in Australia.
With a degree in English Literature and Drama (1983), Michèle was the Auckland Correspondent for the highbrow Sunday radio program for two years, and is a regular book reviewer on National Radio's Nine till Noon program, and social commentator on the Panel with Jim Mora. She also appears twice weekly on VivaFM with Simon Dallow. With a NZ Certificate in Journalism (1979) she's a freelance journalist for a number of national magazines and newspapers including Next, On Holiday, She, Pet, Bride&Groom, and a columnist for NZ Political Review.
Michele has several years' experience performing at corporate functions as a host and entertainer. She has several times presented the NZ Chamber Music Awards, and the NZ Tourism Awards where her "professionalism, expertise and wit" as MC were acknowledged as "major factors in the success" of the events. Other clients have included finance brokers, publishers, travel companies, secondary school teachers, truck drivers, pharmaceutical companies and produce growers.
Michèle has performed in a huge number of celebrity debates over the past eight years including regular appearances for the Dunedin and Christchurch festivals, the Northshore Libraries Foundation, Plunket and the Peace Foundation. In 2003, Michèle toured New Zealand in the sell-out, big theatre season of the stage play, Mum's the Word(Volcanic Productions).
She's also a comedian with a heart and a social conscience. In November 2004, Michèle spent three days at Auckland Central Remand Prison performing nine shows for inmates, inspired by her desire to support the Algerian political refugee, Ahmed Zaoui, by giving him a positive experience during his time in detention. She also co-hosted the fundraising even for Mr Zaoui's family in November, sharing the stage with such Kiwi entertainment luminaries as Dave Dobbyn, Chris Knox and Don MacGlashen.
Michèle visited East Timor in March 2001 where she entertained NZ and United Nations troops – an experience she described as "life-changing and world-expanding". In January 2002, Michèle performed a special workshop and show for the teenage Afghani refugees rescued from the Tampa.
Her national comedy tours include Heritage 101 (2005); Back In The Bar (2004); As Seen On TV (2003); The Horror… the Horror (2003); If You Want Me I'll Be In The Bar (2002); Lippy in 2000, Once Were Worriers with Mike King (1997/98 in NZ and Melbourne); Ultra Super Vixen Women With Really Enormous Tits(1996), and Exposed (1992/93). There have been a plethora of short tours to national hot spots such as Te Aroha, Warkworth, Thames, Hastings, Napier, Palmerston North, Hamilton, Christchurch, Dunedin, Tauranga, Whangarei, Taupo, Masterton, Nelson, Queenstown, Wanaka, Te Puke, New Plymouth, and her home town, Levin.
As a television scriptwriter, she has completed an animated children's programme, Tamatoa the Brave Warriors, which screened in 2000 on TV2. She has also been a scriptwriter for Shortland Street, NZ's most successful long-running soap, and has contributed to a number of television sketch comedy shows as both a writer and comic actor.
Michèle A'Court is the President of the NZ Comedy Guild, the union for professional stand-up comedians. She was, for a number of years, on the Board of the NZ Comedy Trust which administers the annual International Comedy Festival in New Zealand. For her work in supporting and assisting comedians, Michèle won the Best Industry Friend Award 2003 from the NZ Comedy Guild.
Television credits include: What Now?, the Video Dispatch, Pulp Comedy, Shortland Street, A Bit After Ten, Strassman, Kiwi Shorts, Letter to Blanchy, Issues, Comedy Central, That Comedy Show, Really Living, a regular slot in 1998 as a rugby reporter for Friday Night Football on Sky Sport, and an endless list of game shows such as Ready Steady Cook and Give Us a Clue.
Michele A'Court has won the following awards:
Best Female Comedian 1997, 2002, 03, 04, 05, 06, 07 – NZ Comedy Guild Awards
Best Show Concept 2005 – for 'Heritage 101', NZ International Comedy Festival
Best Industry Friend 2003 – NZ Comedy Guild Awards
Best Laugh! Festival Show 2002 – 'If You Want Me I'll Be In The Bar', NZ Comedy Guild Awards
Best Female Comedian 1997 – Chapman Tripp Theatre Awards
Travel Writing Award 1995 -Cathay Pacific Media Travel Awards
Client testimonials
French and Saunders all rolled into one… cajoling the audience along on a journey, combined with biting wit and sarcasm…
-Dominion Post
The humour is modern, urbane, intelligent, inventive and irreverent – reminiscent of the best television humour in the days before satire was turned into homogenised, disarmed filling for the gaps between commercials… the pace, the timing, the variety, the polish and cheerful iconoclasm that make an evening of good comedy.
-Otago Daily Times
Charming... enjoys nothing more than tweaking your pretensions and preconceptions... Brisk, breezy and over all too soon.
-Evening Post
A'Court shot straight from the lip and came out swinging... clearly the crowd favourite.
-Otago Daily Times
Sassy... confident... snide... outrageous and probably libellous
-NZ Herald