Mary Coustas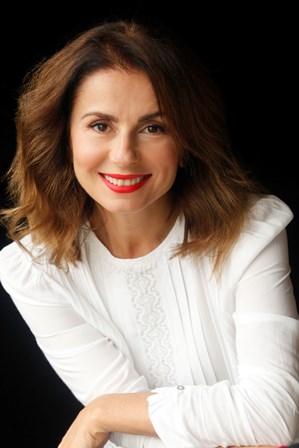 Keynote Speaker, Moderator & MC
Mary Coustas is a Logie Award winning actress and writer who has entertained Australian audiences with her versatile comedic and dramatic performances on TV, film and stage. Mary is also an experienced, warm and humorous keynote speaker, moderator and MC who is guaranteed to connect with community and corporate audiences at any event or occasion.
Mary first captured the imagination of her fans in the late 1980s when she, along with her co-stars Nick Giannopoulos and Simon Palomares, created Wogs Out Of Work. The ground-breaking theatre show explored the issue of racism and stimulated discussions in the country that had never been had before. The show toured nationally over three years, becoming Australia's highest grossing non-musical theatre show.
The Channel 7 sit-com Acropolis Now ran for five hit seasons and it gave birth to Mary's most known and beloved character – the bold and boofy Effie, who for the last three decades has affectionately seared herself into the minds and homes Australian public.
But it was Mary's own deeply personal story, her odyssey, her excruciating decade long journey to become a mother that touched a nation in a way no-one could have anticipated.
Her much-lauded memoir All I Know exposed Mary's enormous heartbreak and greatest challenge to the public. The Good Weekend ran a five-page extract from her book and 60 Minutes followed up with two separate stories.
Mary's 23 IVF attempts and her willingness to share her greatest sorrow – the death of her still-born daughter Stevie, touched a national nerve about subjects previously considered secret and taboo.
Mary has succeeded against all odds both professionally and personally to realise her dreams of becoming a mother and an actress.
Her personal motto of, "Nothing good comes from giving up" carried Mary towards her greatest achievement, the birth of her healthy and beautiful daughter Jamie in November 2013.
Mary's harrowing, courageous and ultimately uplifting personal story became inspirational to many. Her vulnerability, resilience and eventual victory catapulted her into the nation's hearts forever.
Mary has MC'd and delivered keynote presentations for clients that include Telstra, ANZ, SBS and NAB; she has spoken at the Bidvest Conference, the Pink Ribbon Breakfast; the Australian College of Midwives Conference and more.
Client testimonials
We should pay Effie double – she was quite simply FANTASTIC – particularly Effie's line – It's not DOG eat DOG – it's WOG eat WOG! Everyone I've spoken to also thinks it was the best ever! It was a great night.
-SBS Television
People are RAVING about it being the best one ever. Seriously raving. It's great. Effie was a sensation and they're raving about her too. And everyone has a hangover.
-Daily Telegraph
Wow – what a night! The feedback from guests and staff has been absolutely incredible. Your comical anecdotes were a great hit and your banter with Larry was very entertaining. I can't begin to thank you for your contribution in making our Client Appreciation Party a night that will be remembered for many years to come.
-Australia Post
Your presence and the comedy spot you delivered were instant hits with our clients and staff members alike. We are still in awe of the way in which you spiced up the information we gave you and delivered it with such aplomb.
-Minter Ellison Lawyers
Thank you again for bringing Effie along to our Consumer Finance Expo last week. The feedback from staff has been incredible – they loved the fact that a 'star' of Effie's calibre would come along to an event like this and be so tuned in to the theme of the event.
-ANZ Bank
You were a wild success with our students and staff who were inspired by the messages you presented to them.
-MLC (Methodist Ladies College)
The standard of entertainment was second to none. As Master of Ceremonies, you delighted the audience as well as conveying all our key messages in your uniquely wicked way. It was a night we will all remember.
-2002 Gay Games
Guys and gals. What a great night! Feedback this morning has been outstanding…The best Ball ever, is the common view. Effie slayed 'em. As John Howard said, the Ball has become THE Canberra event to attend.
-The Australian
I would like to thank you for your participation in the National Conference, 'Quest for Excellence' which contributed to the success of the event.
-Mortgage Choice