Lynne Cazaly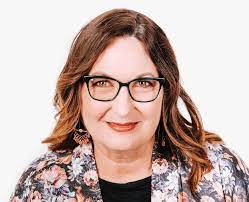 Thought leader, Customer Service expert and Keynote Speaker
Lynne Cazaly is a keynote speaker and author who is an expert in new ways of thinking and working and is engaging, inspiring, creative, captivating and funny. As a thought leader in agile cultures, sensemaking, innovation and change, she presents on topics highly relevant to leaders who need to get the best out of their teams and boost performance. Her sessions are interactive, practical, inspiring, humourous and entertaining.
Lynne Cazaly brings a truly individual and unique element of live digital visuals to her presentations. Often live scribing on her ipad, she presents hand crafted visual slides, many created in the moment, and shares frank insights that hit home and give leaders immediate takeaways for action.
More about Lynne Cazaly:
Lynne is creative, inspiring, engaging and has a remarkable ability to impart skill and capability to a room through her pragmatic presentations.
Lynne's experience in the field of communications, technology, agile software development and facilitation means she walks the talk of communication and engagement, with impact.
Her work with project teams in industries like technology, health care and banking and finance has made her a conference hit. Lynne is often rated the best speaker/session of a conference event, able to engage the audience, and then shift their thinking as well as build their know-how.
She is a master of group work and group processes being an expert facilitator, and trainer of facilitators, and as a former broadcaster, knows the power of a microphone and an audience!
Lynne's sessions are often career, project and team transformation points; great things happen during and after a presentation by Lynne Cazaly.
She's known for her exciting visuals – hand-drawn, digital and often created and edited live, on the screen.
Lynne Cazaly's experience as a board director and chair rounds out her experience at all levels of business.
What Lynne Cazaly talks about:
Hello Hybrid! Leading Teams Here, There… and Everywhere
·  The 12 key techniques that will keep you focused on the people and the work to be done
PRODUCTIVITY
• The cost and danger of perfectionism at work
• Too much to do? 6 new ways to think about work productivity
• When is enough, enough? The dangers of overworking
CHANGE
• Leading Change and Transformation in Uncertainty
• Visibility, Transparency and Clarity: 3 Drivers of Change
• Create Change: How to apply innovation in an era of uncertainty
SENSEMAKING & COGNITIVE LOAD
• Sensemaking in a VUCA world
• Handling information overload with new ways of thinking + working
• Making Sense : The #1 capability for 2020 – says the Institute for the Future
COLLABORATION
• Leading Collaborative Teams
• Getting more done, together: The power of the productive team
• Leader as Facilitator: How to inspire, engage and get work done
CULTURE
• Agile-ish: How to build a culture of agility
• New ways of working (NWOW) : Change that's sweeping the world
• Client-centred work: Making things that people need