Kim Huckerby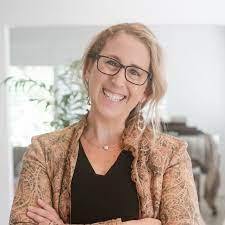 Founder of The Wellbeing Affect & Keynote Speaker
Founded in 2018, Kim Huckerby created The Wellbeing Affect with the goal of fostering change across the mental health and wellbeing space, ultimately resulting in a more inclusive and forward-thinking world in which every person is equipped with the skills and knowledge to assist their loved ones and alike who are experiencing mental health difficulties.
Kim's passion and skill ensures that every time she steps onto the stage or engages with her audience online, people walk away feeling changed and inspired. She has worked with companies such as Mastercard, Thales Group, Ray White and imparting 20 years' worth of knowledge and experience.
More about Kim Huckerby:
With a career spanning over 20 years, Kim's professional experience as a Social Worker and Counselor has seen her gain experience in a plethora of roles, including psychoeducation, mentoring, strategic planning, leadership, speaking/training, and coaching. She has had the benefit of working alongside diverse groups of people and demographics, including young people, parents, secondary schools, and the corporate sector, with an absolute focus on mental health and wellbeing, which has been a key factor in the culmination of The Wellbeing Affect.
In a moment of serendipity, Kim was invited to undertake her Social Work placement at the Eating Disorders Foundation of NSW as part of her final year of study at the University of Sydney. It was this pivotal moment that inspired her to continue her career in the not-for-profit sector and this has been a key component of where she is today.
Kim resides in Sydney, Australia with her husband, 2 beautiful boys (aged 12 and 14), and their beloved fur baby, Coco the dog.
The Wellbeing Affect has been purpose-built on the foundations of empowerment and education to deliver much-needed mental health and wellbeing support, by equipping each client with the skills and techniques to make a positive impact on themselves, their loved ones, and peers.
Kim and her team at The Wellbeing Affect deliver:
·         Accredited Mental Health First Aid and Wellbeing programs Australia wide
·         Bespoke Mental Health and Wellbeing Workshops – in-person, virtual an/or hybrid
·         Kim Huckerby – Keynote Speaking
What Kim Huckerby speaks about:
·         Mental health in a post pandemic workplace – Leaders calibrating your workplace, your culture, your people
·         Are you OK? What if the answer is NO? – Getting comfortable having conversations that count
·         Who's going to thank you for burning out? –  The need for self accountability
Client testimonials
Kim was an amazing instructor. I wasn't too sure on what to expect going into the course but leaving I have a range of new knowledge that I know I'll need/use at some point. Kim was able to give all the information in what felt like a safe environment. Kim held the audience's attention the whole time…. I highly recommend Kim! Thank you!
-AFL NSW/ACT
Kim was outstanding and had a lot of practical experience in the field which helped us immensely in bridging the gap between theory and real life.
-Mastercard
The Wellbeing Affect has provided valuable MHFA training to members of our Youth Reference Group and we're looking forward to more in the future. Kim is always so lovely and helpful with many of our YRG members, and they have mentioned what a great facilitator she is, as well as being so knowledgeable. I recommend Kim Huckerby to everyone in search of equipping themselves with the essential tools and awareness surrounding mental health.
-Headspace
The Wellbeing Affect team have been running MHFA training for our students and staff since early 2021. The feedback from our participants has been fantastic and the instructors integrate information on our specific services to give a tailored approach along with the evidence-based training. We recommend TWA for other large organisations wishing to build a mental health literate workforce.
-UNSW Health Promotions