Ken Sutcliffe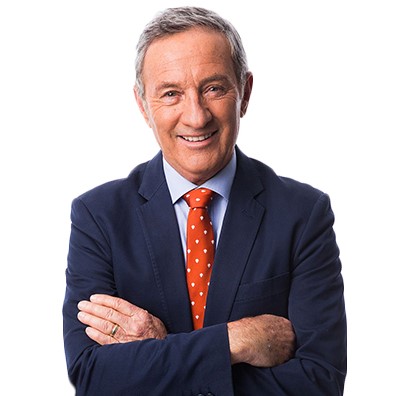 Television legend, keynote speaker and corporate host
Ken Sutcliffe was a much-loved news and sports presenter for 50 years, working alongside giants of Australian television including Brian Henderson, Graham Kennedy and Ray Warren
Ken spent 37 of his 50 years in television with Channel Nine, as presenter of the National Nine News and Wide World of Sports. Up until his retirement in late 2016, Ken presented and hosted many of the world's most prestigious sporting events.
Ken began his career in his hometown Mudgee, where he was a radio presenter/reporter and disc jockey for four years. Later he joined CBN-8 Orange as a newsreader, before moving to North Queensland.
In 1979 Ken joined TCN-9 as an offsider to Ron Casey, producing and presenting feature spots on World Of Sport. In 1982 he began presenting sport on National Nine News – a position he still holds – and the same year began filling in as co-host on Wide World of Sports and the Today Show.
After seven years with Wide World of Sports, Ken spent a year as co-host of Graham Kennedy's late night news program in 1988 before taking over from Mike Gibson as host of Wide World of Sport in 1989. Prior to this, Ken spent a year hosting and reporting on the America's Cup defence in Fremantle.
During his time with Wide World of Sports, Ken visited numerous countries including Los Angeles in 1984 for the Summer Olympics, Calgary in 1988 for the Winter Olympics, and Albertville, France in 1992 and Lillehammer in 1994. He also hosted three Commonwealth Games, Brisbane (1982), Auckland (1990) and Kuala Lumpur (1998), the Wimbledon Championships for more than a decade and was in Augusta, Georgia in 1997 to host the Masters telecast when Tiger Woods made his historic victory.
Following the conclusion of Wide World of Sports in 1999, Ken continued to host sporting events that come under the Wide World of Sports banner. These included the Australian Formula One Grand Prix, Australian 500cc Motorcycle Grand Prix and Gold Coast Indy-Car Grand Prix.
Ken also hosted numerous Rugby League Grand Finals, the State of Origin series, the Pan Pacific and Olympic swimming trials, the World Swimming Championships in Japan and the Brisbane Goodwill Games. In 2010 he hosted the FIFA Soccer World Cup from South Africa.
He announced his retirement from as Nine News sports editor and Nine News sport presenter in November 2016.