Jessica Watson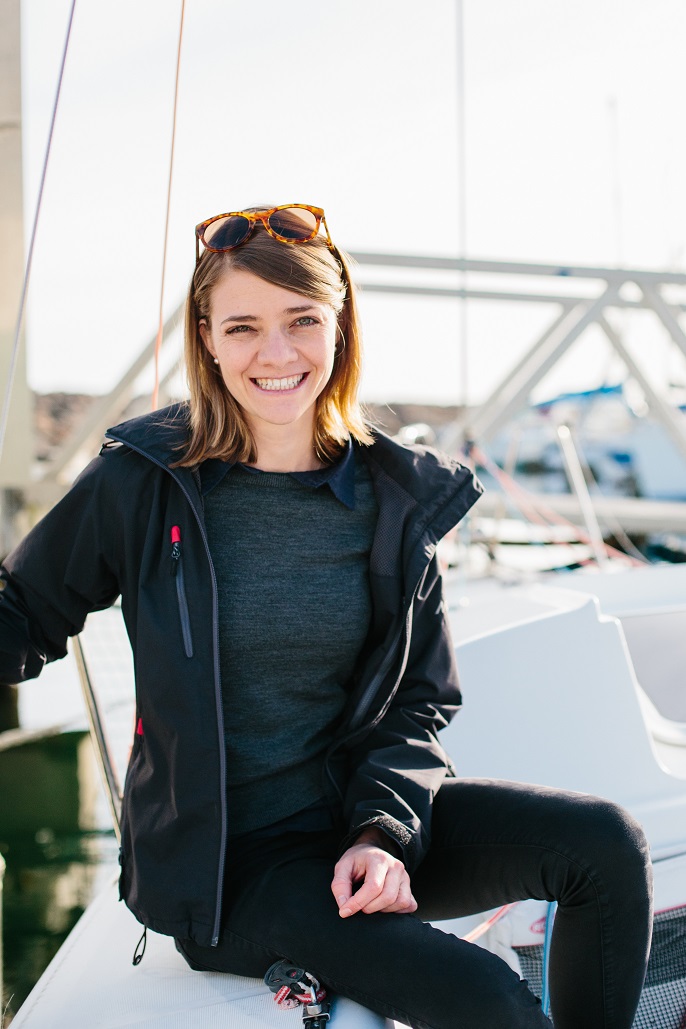 Youngest round-the-world solo sailor
At age 16, Jessica Watson became the youngest person to sail solo non-stop and unassisted around the world.
Defying criticism from those who said her task was destined to fail, after 210 days at sea navigating some of the world's most challenging stretches of oceans and surviving seven knockdowns, Jessica sailed back into Sydney Harbour on 15 May 2010.
As she docked at the Sydney Opera House, the country wept with pride. She walked up the pink welcome carpet, met the Prime Minister on stage and then delivered what many believe is one of the simplest, but brilliant, inspirational speeches of all time where she replied to the Prime Minister's summary of her as our newest Australian hero:
"I would like to disagree with our Prime Minister. I do not consider myself a hero. I am just an ordinary person, who had a dream and worked hard at it. By sailing solo, non-stop and unassisted around the world, I have proved that anything really is possible".
She had captured the hearts of not only Australians, but millions of supporters around the globe as they cheered on the 16-year-old Aussie, who had overcome the adversity and odds to achieve what many thought impossible.
Within 3 months of her return, Jessica finished writing her book called "True Spirit" which told the story of her epic voyage. The book went straight to number 1 in Australia and has been published in 15 countries – another extraordinary achievement from the girl who suffers badly from dyslexia!
Jessica also filmed a documentary, 210 Days, which was narrated by Sir Richard Branson.
She was named Young Australian of the Year 2011.
In December 2011, Jessica skippered the youngest crew ever to compete in the iconic Sydney to Hobart yacht race, finishing second in their category.
In January 2012, Jessica was announced in the Australia Day Honours list, receiving an OAM (Order of Australia Medal) for services to sailing and being a role model for the youth of Australia.
A movie has been produced about her incredible story, to be released globally by Netflix in February 2023. Now aged 29, Jessica is the co-founder of marine start-up and has completed an MBA, authored a second book – a middle-grade novel titled Indigo Blue – is an in-demand corporate speaker and a management consultant within Deloitte's Human Capital Practice.
Jessica Watson – she is an inspiring story that ultimately proves that we all have the power to live our dreams – no matter how small or big they are!
Client testimonials
Jessica Watson and Macquarie Life share the same passion for challenging the status quo and we've been delighted to be supporting her for the last two years. Jessica's achievement of becoming the youngest person ever to sail solo, non-stop and unassisted around the world is an amazing feat and one that really shone a spotlight on what can be achieved with determination, passion and energy. As we have taken Jessica around Australia to share her story with our clients, what really connected with the audience was her self belief and positivity. In all her presentations, it was also her humility that really endeared her to the audience and she also demonstrates a maturity beyond her years in her ability to respond to questions and interact with people of all ages. Jessica is one of Australia's most inspiring and impressive youth leaders and is proof for us all that with the passion to succeed, people, like businesses, can achieve great things.
-Macquarie Life
The theme of our conference was Inspire to Lead. Jessica certainly fulfills that theme in what she has achieved in her life to date. Her story of determination and following her goals and dreams was truly motivating for us all. The confidence she displayed combined with her charming personality was fully visible in her most entertaining presentation. Jessica explained that whilst she was the figurehead of the effort, she would not have been able to achieve success without planning and backing by a professional support team. Everyone present was left feeling that if you believe in yourself and your support team nothing is impossible. Our company also values the worth of individual effort backed by a good support structure. We wish to thank Jessica for a wonderful presentation and wish her all the best in the future.
-Electrolux
Jessica's field trip to Laos with the World Food Programme (WFP) highlighted exactly why she was chosen by the UN to be a Youth Ambassador for WFP. Jessica gave presentations to under nourished children in schools in villages in the remote south of Laos and also in Vientiane, at Government level. Her ability to adapt and communicate to such a vastly different audience, is a credit to her. Despite the language barriers, Jessica managed to overcome the communication barriers and made a huge impression with the people of Laos.
-United Nations
At just 21, she has a maturity way beyond her years, whilst also having the ability to adapt to any audience, whether it be schools, corporate or simply engaging people on a personal basis. It's an absolute privilege to have Jessica as our MTA ambassador and would be more than happy in endorsing her for any corporate engagement.
-MTA