Jeffrey Watson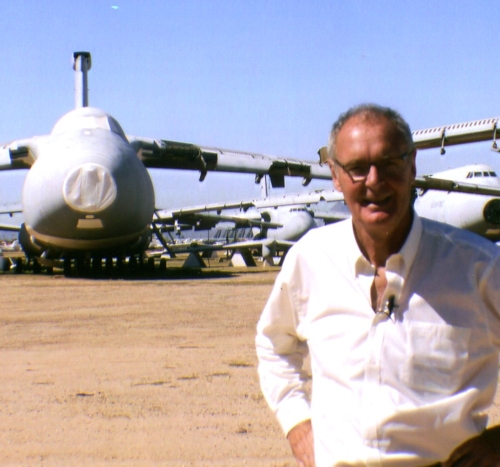 Motoring & Aviation, Today Show
Jeff Watson is a broadcaster, author, journalist and documentary producer with 40 years in the business. Best known as a presenter on Beyond 2000 which was seen in most countries including the United States and the USSR, Jeff Watson has also contributed to This Day Tonight, Four Corners, Towards 2000 (a program which he devised in 1979), Holiday, Sixty Minutes, Beyond 2000 and Getaway.
A passionate aviator, Jeff Watson recently flew 23,000 km from England to Australia, with John Travolta, in a 50 year old jet airliner to produce the programme Southend to Sydney.
Later they flew a small jet from Rio de Janeiro to Sydney via Manaus, Curacao, Brownsville (TX) Seattle, Anchorage, Petropavlovsk (Russia), Osaka, Guam, Cairns, Brisbane Sydney.
Jeff Watson recently produced two highly successful aviation programmes for Channel 7 and The History Channel, entitled The Boneyard and The Shape Of Things To Come. Other documentaries produced by Jeff Watson include: Spitfire Over Australia (ABC), Curtiss Kittyhawk and The Ansett Story (Nine network and Discovery USA), Classic Aeroplanes in Australia (Discovery USA), The RAAF 70th Anniversary (Nine Network), Qantas 50 Years of QF-1 (Nine Network), and Veterans Return and Ghost Squadron (ABC) and The Last Plane Out of Berlin (ABC).
Jeff Watson was executive producer of The World Tonight program with Clive Robertson and presented a weekly segment on classic cars, My Car, which later emerged as the documentary, Classic Cars in Australia. In 2001, Jeff Watson was the motoring and aviation editor of Channel 9's Today programme.
Jeff Watson wrote and presented the ABC radio program Travellers Tales for five years which resulted in a successful book. He co-wrote Heads I Win about Australian coin forgery and his book, The Last Plane out of Berlin, a biography of Sidney Cotton , published by Hodder in 2002, has been reprinted five times. Jeff Watson has also written and presented corporate videos, presented television commercials and made a film on carbon dioxide storage for a consortium of American mining companies.
In 1991 Jeff was made a Chevalier of the Order of Merit by then President Mitterrand of France, in recognition of his services to France and the many films he has made on French developments in science and technology, in particular, aviation. Jeff served two years as a Trustee of the Powerhouse Museum in Sydney and was an Australia Day Ambassador in 1995-6-7. He was an honorary and is now a full member of the Spitfire Association. In 2003, he was created an honorary Fellow of the Royal Aeronautical Society.
As an aviator Jeff has flown, or flown in more than fifty types of aircraft including the Harrier Jump-Jet, the F/A 18 Super Hornet, the English Electric Lightning and the Concorde and has kicked the tyres on the Space Shuttle Challenger.
Client testimonials
Jeff delivered what we asked for and hoped for. He has an entertaining, light hearted view of his experiences and life.
-Borders River Catchment Management