James O'Loghlin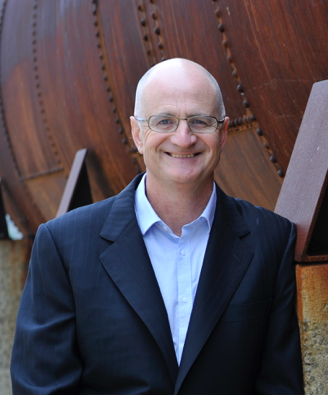 Entertaining Media Host, Comedian, MC & Facilitator
James O'Loghlin is an extraordinarily entertaining and versatile corporate entertainer, whose career has spanned criminal law, comedy and the media.
Best known as the curious, thought-provoking and humorous host of 300 episodes of The New Inventors on ABC-TV, he is also a much-loved broadcaster and panel member on ABC Radio.
A natural comedian with a warm and friendly approach, James is a highly-polished MC, panel facilitator, after dinner entertainer and keynote speaker, who delivers the perfect mix of laughter, entertainment and substance.
As an MC, he communicates salient points and draws laughs from whatever is happening, all the time running the event in an efficient and appropriate manner. As a panel facilitator he puts panelists at ease yet never fails to keep discussions both informative and entertaining. Drawing on his experience as a radio and television host and ex-criminal lawyer, he knows exactly how to ask the right questions at the right time.
More about James O'Loghlin:
James went to a private school, studied law at university and became a corporate lawyer. After realising that he had made a terrible mistake, he threw himself into stand-up comedy, and left corporate law to become a criminal lawyer. Through the 1990s he had two parallel careers; criminal lawyer by day, and comedian by night. He juggled both with television appearances on Good News Week, Hey, Hey It's Saturday and more, while also working as a writer for Andrew Denton on his Triple M breakfast show, and at the Logies. In 1999, he finally left the law.
As well as all his other commitments, James has hosted Sunday Evenings with James O'Loghlin on ABC Local Radio since 2009. He is also the author of four books: How to Balance Your Life, Umm … A Complete Guide to Public Speaking, and Andy's Secret Weapon, a story for children.
James speaks about:
James' role as the host of The New Inventors fueled his interest in innovation, a subject upon which he now regularly gives keynote speeches. He explores practical things we can all do every day to become more innovative, and about the ways in which companies can create a culture that encourages innovation.
Client testimonials
Excellent. We were very impressed with how he integrated aspects of some of the other speeches into his presentation which was very amusing as well as giving some food for thought. He was very approachable and down to earth - an excellent dinner guest.
-Engineers Australia
Excellent. James excelled as master of ceremonies for the 2008 NRW Natural Resources Conference. His facilitation of the panel discussion was particularly impressive.
-Department of Natural Resources and Water
Thank you for your fantastic "MC" services…your cool, calm and collected style not only kept us highly amused, but kept everything and everybody else under control!
-The Starlight Foundation
Our clientele varies greatly in tastes and background and your professionalism and ability to connect with and entertain audiences was greatly appreciated. You were one of the standout comedians.
-The Harbourside Brasserie
Excellent. Extremely amusing and an excellent ability to work the audience.
-Telstra Retail – Finance
Excellent. James is a highly professional entertainer. His performance was outstanding.
-Australian Venture Capital Association
An enormous thank you. Your comedy section was a highlight of the evening's entertainment…the act was great: well chosen, clever and above all funny. We had a great deal of positive feedback about the evening in general, and your performance in particular. We'd be happy to recommend you.
-Young Cancerians Sydney Committee
You were fantastic on the night and targeted your act perfectly to the audience. I've had terrific feedback from the guests, who all thought you were very witty & entertaining. I will definitely recommend you to everyone.
-Resourceful Events
Thank you for working your magic as MC last Monday at the NSW Premier's Awards. We've received an overwhelmingly positive response regarding the awards ceremony with many mentioning just how much they appreciated your work.
-NSW Department of Health
Thank you so much for your wonderful compering of the Smart Awards. You were fantastic and everyone enjoyed your humour, style and professionalism. We look forward to working with you again in the future.
-Invigorate