Harry Houdidn't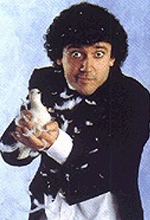 Creative & Innovative Comedy Act
Harry Houdidn't has delighted audiences with his creative and innovative comedy act, which, as his name implies, involves magic with a twist.  Harry is the perfect for all ages and loved by all.
If the word "magic" prompts you to think you've seen it all, then you haven't seen the hilarious exploits of Harry Houdidn't who, besides trying his hand at juggling and hypnosis, is also a part-time pickpocket – stealing from the rich and giving to the poor.
Aided by his sword-swallowing chook, this zany performer uses a good balance of  spectacular illusions, thrilling escapism and fire-eating to give the audience a smorgasbord of thrills and spills, coupled with side-splitting entertainment, which is the hallmark of the craziest and most original comedy magician to ever hit the stage.
Harry Houdidn'ts corporate clients include: Exxon, Electrolux, Toyota, SAAB, GMH, Ford, American Express, as well as performing on the QE 2, and regularly appearing at major comedy venues and concert halls throughout the world.
Client testimonials
Excellent! His performance was absolutely fantastic on the night. The audience participation really brought the crowd into the event and set the tone for what was an amazing evening.. Highly recommended!
-Grampian Pyrenees Regional Development Board
Excellent! They laughed throughout the whole performance.
-Mobil