Greig Pickhaver AM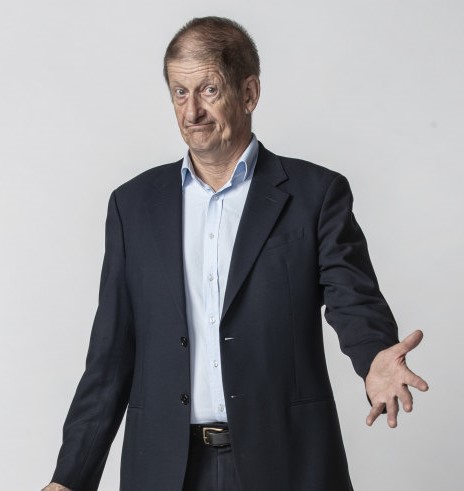 Actor, comedian and writer and director
Greig Pickhaver AM (also known as H.G. Nelson) is an actor, comedian and writer and director. He is most famous as one half of the Australian sports comedy duo Roy and HG. The award winning duo originally teamed up in 1986 for the Triple J radio comedy program This Sporting Life, which was broadcast nationwide for 22 years and led to several successful TV spinoffs.
With John Doyle as Roy Slaven, they have appeared on television shows such as The Dream with Roy and HG, This Sporting Life, Club Buggery, The Channel Nine Show, Planet Norwich, Win Roy and HG's Money, The Monday Dump, The Nation Dumps, The Dream in Athens and The Memphis Trousers Half Hour.
Greig Pickhaver was born in Nuriootpa, South Australia and is a graduate of Flinders University. After a stint as a roadie for Australian rocker Billy Thorpe in the early 1970s, he moved into acting and comedy.
Greig first developed the HG Nelson character while performing in the Melbourne radio sports comedy show Punter To Punter in the early 1980s. He met John Doyle in 1985 while both were playing minor characters in an SBS TV show and they teamed up as Roy and HG in 1986.
A highly intelligent, down to earth and hilarious comedian, Greig Pickhaver is a superb choice as an MC, host, facilitator or keynote speaker for public and corporate events.
Greig has published the following works:
1989: Pants off, this sporting life, by Roy Slaven and H.G. Nelson
1994: Where it all went wrong [sound recording] : address delivered by H.G. Nelson, anti-smoking activist, to the National Press Club, Canberra on World No Tobacco Day, 1 June 1994
1994: Boys and balls, by Brian Nankervis; in the press box: Roy Slaven and H.G. Nelson
1996: Petrol, bait, ammo & ice, by H.G. Nelson, with a foreword by Roy Slaven; illustrated by Reg Mombassa
1999: It's yours for a sawn-off! : Sameranch's Sydney, by H.G. Nelson; illustrations by James de Vries
2006: The really stuffed guide to good food 2006, edited by H.G. Nelson
2008: Sprays, by H. G. Nelson