GameShows Australia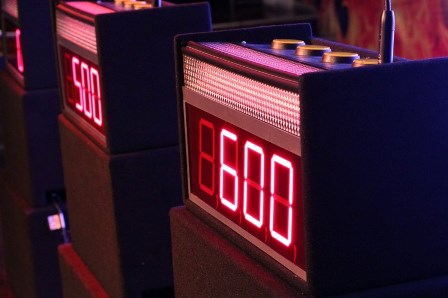 Live corporate game shows
Game Shows Australia provides a unique, stimulating, fun-filled, action-packed, interactive and highly memorable hour of corporate entertainment where your guests become the stars of a game show.
Complete with buzzers, podiums, sound cues, digital score boards and all the bells and whistles you'd expect, the show features all the glitz, glamour and grandeur of a live TV game show. The show can integrate company, industry or theme-specific questions to suit your event and includes trivia, general knowledge and sound-clip questions as well as hilarious comic challenges.
The Game Show, which can be set up virtually anywhere, comes complete with a professional game show host, sound technician and music. You can also customise the show with professional lighting options.
This fast-paced, trivia-based travelling game show is perfect for:
• Corporate training events
• Workshops and seminars
• Sales promotions and promotional events
• Team building
• Product launches
• Trade shows
• Christmas and other parties
The Game Show set-up has won clients such as Zurich first-place awards at trade shows. It has also seen stars from NRL, AFL and Rugby Union play alongside their fans. No wonder Game Shows Australia is consistently booked year after year by many corporate clients.
Versatile, exciting and great fun, the Game Show brings a new dimension to the world of corporate training and corporate entertainment and is a memorable way to make your event successful. It will leave your guests wanting more, much more.
Client testimonials
The Action Entertainment Team are true professionals and went over and above to delivery a fun and entertaining quiz show game to wrap up our recent company offsite. Plenty of laughs were had and we'll be sure to have the Action Entertainment Team back for round two!
-Proctor & Gamble Australia