Enormous Horns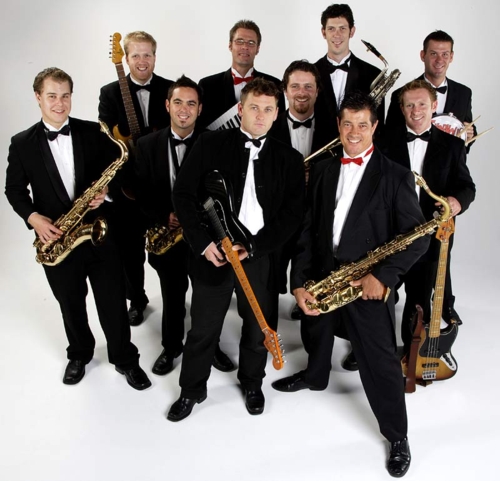 Ten Piece Band
Many people have tried to describe the Enormous Horns and most of them have failed!
They've been called a smoldering funk band, a brassy soul revue, a "hip" jazz combo and a wild rock and roll band.  In truth, they are a little bit of all those things, but most of all they're a ten piece all singing, all dancing party band.
Equipped with a front-line that consists of a trombone, two trumpets and three saxophones, a four piece rhythm section and four part vocal harmonies the Enormous Horns can play anything from Big Band Swing to Rock n Roll, quiet dinner music to fully costumed routines and medleys from the disco era.
Combining great musicianship with a highly visual stage show that often borders on theatrical with a wide repertoire the Enormous Horns deliver a night of total entertainment. Dedicated to providing versatile entertainment the Enormous Horns are also able to fit in with the musical requirements of your evening by modifying their repertoire.
With over a decade of experience performing on the corporate entertainment circuit in Australia and South East Asia the Enormous Horns have earned their reputation as one of Australia's most professional dance bands.
During this time they have developed a loyal following of fans whilst earning the respect of their peers within the entertainment industry as highly skilled musicians.
Though some have tried to imitate the Enormous Horns, their similarities will never compare with the on-stage excitement, fun and showmanship the Enormous Horns have refined over a decade of professional entertaining.