Drew Feustel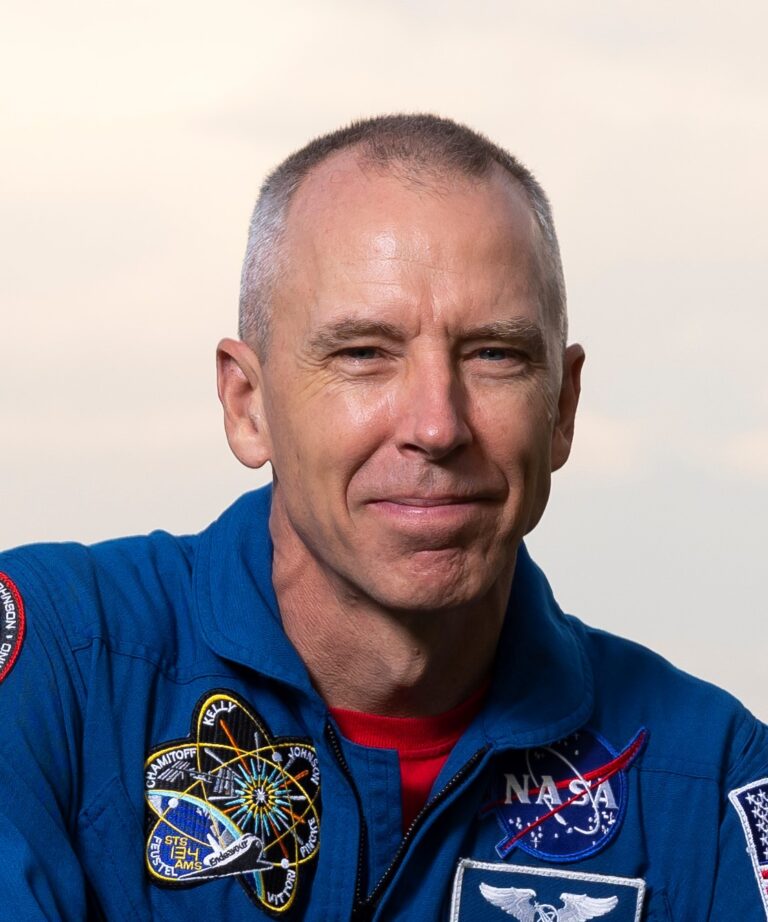 Former Commander International Space Station NASA Astronaut & Geophysicist
Drew Feustel has the ability to share experiences about human spaceflight and speak about personal lessons learned from 23 years as a professional US Govt. Astronaut, ultimately leading the organization as Chief Astronaut before stepping down to retire. His experiences have taught him lessons on leadership, followership, team building, team performance, international relations, risk assessment.
More about Drew Feustel:
Raised and educated in Lake Orion, Michigan, married to Indira Devi Bhatnagar of Ontario, Canada. Drew enjoys auto restoration, skiing, playing guitar, and is a fan of motorsports racing.
Education: A.S., Oakland Community College, Michigan; B.S., M.S., Purdue University; Ph.D., Queen's University, Kingston, Ontario, Canada. Honourary Doctorates: Purdue University, Queen's University,  McGill University
While attending Oakland Community College, Drew worked as an auto mechanic restoring 1950's Jaguars. At Purdue University, he served as a Residence Hall Counselor for the Purdue University Student Housing organization. His summers were spent working as a commercial and industrial glazier near his home in Michigan.
During his Master's degree studies, Drew worked as a Research Assistant and Teaching Assistant in the Earth and Atmospheric Sciences Department of Purdue University. While at Purdue, he served for three years as Grand Prix Chairman and team Kart driver for Sigma Phi Epsilon Fraternity. In 1991, he and Indira moved to Kingston, Ontario, Canada, to attend Queen's University to earn his Ph.D., where he worked as a Graduate Research Assistant and Graduate Teaching Assistant.
For three years, he worked as a Geophysicist for the Engineering Seismology Group, Kingston, Ontario, Canada, installing and operating microseismic monitoring equipment in underground mines throughout Eastern Canada and the United States.
In 1996, Drew began working for the Exxon Mobil Exploration Company, Houston, Texas, as an Exploration Geophysicist, designing and providing operational oversight of land, marine and borehole seismic programs worldwide.
His NASA career began when he was selected as an Astronaut in July 2000.
He participated in NASA Astronaut Training activities including: Field Medical Training, Field Maintenance Training, NEEMO X underwater Aquarius Habitat, Key Largo, Florida; CAVES, Sardinia, Italy; NOLS Alaska and Mexico; Winter Survival Training Canadian Armed Forces Valcartier, Quebec; Desert Rats Flagstaff, Arizona; Geotechnical Studies, Dry Valleys, Antarctica; Deepworker Submersible Pilot Training, Vancouver, British Columbia; Army Aviation Helicopter Flight Training, Alabama and Colorado.
226 days in space:
STS‐125 (May 11-24, 2009). Final Hubble Space Telescope Servicing mission on Space Shuttle Atlantis.
STS‐134 (May 16 – June 1, 2011). Final flight of Space Shuttle Endeavour and delivery of the Alpha Magnetic Spectrometer to ISS.
Expedition 55/56 (March 21 – October 4, 2018). Launched from the Baikonur Cosmodrome aboard the Soyuz spacecraft serving as ISS Commander during Expedition 56.
Conducted 9 spacewalks with a total of 61 hours, 48 minutes.  Feustel is third among all U.S. spacewalkers for aggregate EVA time.
Drew Feustel speaks about:
Experience gained through over 200 public speaking engagements has allowed Drew to develop invaluable interpersonal skills to successfully engage with diverse audiences, technical advisory panels, and boards throughout the human spaceflight community. As human spaceflight requires the most advanced technologies across space-related industries, his expertise is broad and highly relevant to corporate navigation in our increasingly complex and interactive world.
Drew has had the opportunity to talk with audiences of all ages and backgrounds ranging from secondary school education institutions and undergraduate and graduate university programs, to corporate and government organizations.  Drew's recent relevant industry experiences and development allow him to speak with confidence on topics focused on:
·         Leadership
·         Followership
·         Team Building
·         Risk Assessment
·         Conflict
·         Human Space Systems
·         Spaceflight Experiences