David Murray AO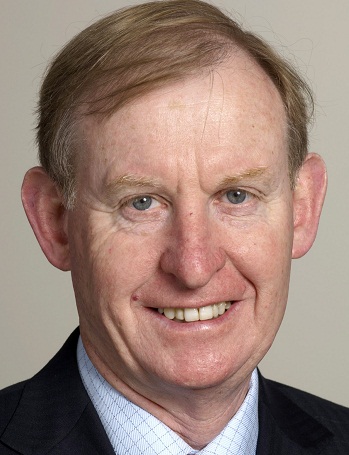 Former Chairman of Australian Future Fund
David Murray is the former Chief Executive Officer of the Commonwealth Bank of Australia and Former Chairman of the Australian Future Fund. During his 13 years in this role, he guided The Commonwealth Bank through a number of major changes, in particular its transformation from a partly privatised government-owned bank to an integrated financial services company. In the process it generated total shareholder returns at a compound annual growth rate of over 24 per cent, one of the highest total returns of any bank in Australia. He also presided over the merger with Colonial Limited, the largest in Australian corporate history.
David spent 39 years with the Commonwealth Bank. He joined in 1966 and was appointed CEO in June 1992, retiring from this position in 2005.
In November 2005 the Australian Government appointed David as the inaugural chairman of Australia's sovereign wealth fund, The Future Fund, for a statutory term of five years plus an additional one year.
David Murray is a Senior Advisor of Credit Suisse, a member of the Oliver Wyman Senior Advisory Board and a consultant to Olbia Pty Ltd. David has held a number of public sector advisory roles in Australia.
He holds a Bachelor of Business from the NSW Institute of Technology and a Master of Business Administration from Macquarie University. He has also been awarded honorary doctorates by the University of Technology Sydney and Macquarie University.
David has been closely involved with numerous philanthropic, industrial and financial entities throughout his career. He is a life member of the Financial Markets Foundation for Children, a charity which donates funds to research into emerging children's health issues. He is also a member of the Global Foundation and a Director of Tenix Pty Ltd, one of Australia's largest privately owned companies.
In 2001 he was awarded the Centenary Medal for service to Australian Society in banking and corporate governance and in 2007 he was made an Officer in the Order of Australia (AO) for his service to the finance sector both domestically and globally and service to the community.
David Murray has more experience and expertise in the finance and banking sector than most. That's why he is such a highly sought-after speaker on leadership, the economy and finance, macroeconomics, corporate governance and more.
Client testimonials
What an articulate speaker you are David. Able to state things in a clear concise manner. No waffle. I learnt a lot. Many thanks. Insightful and relevant.
-Conference Delegate
Very insightful information, thanks David.
-Conference Delegate
Excellent presentation and excellent speaker.
-Conference Delegate
Fantastic presentation - interesting and David is extremely knowledgeable and engaging.
-Conference Delegate
So much knowledge! I could listen to David all day, he has such an easy way of explaining things.
-Conference Delegate
Excellent content and sharing particularly on the human and culture aspect. Very insightful.
-Conference Delegate
Valuable insight into culture and gave a thought to internal auditors to consider reviewing culture aspects in their work.
-Conference Delegate
Great, no nonsense, razor sharp description of realities that identifies the elephant in the room. Fully agree with definition of culture in an organisation! It would be great to have a Chairman of the Board or a CEO like David! Thank you, David for this insightful presentation! 
-Conference Delegate