Charlie Lynn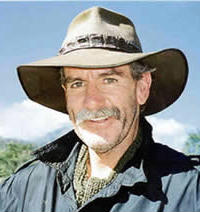 Leadership & Survival
Charlie Lynn is a former army major and Vietnam Veteran. During his 21 years service he was assigned to Vietnam, Singapore, and Malaysia as an exchange officer with the United States Army. He is a graduate of the Army Command and Staff College at Fort Queenscliff.
During his assignment with the United States Army he completed the Special Forces Military Freefall program which involved High Altitude-Low Opening (HALO) parachute jumps from twenty thousand feet at night! He went onto complete 200 parachute jumps.
After leaving the army he organised special events which included the annual Westfield Sydney to Melbourne Ultramarathon which Cliff Young made famous; an 18,000 kilometre Army relay-run around Australia for cancer research; a 4,000 km Olympic Torch relay between Darwin, Cairns and Melbourne for the Melbourne Olympic bid; and a great caravan safari around Australia.
Since then he has conducted leadership and outback survival training with The Australian Rural Leadership Foundation and Adventure West in the Kimberley region of WA, central Queensland and outback New South Wales.
In 1991 he trekked across the Kokoda Track in Papua New Guinea and later developed the Kokoda Adventure Leadership Program for young executives from CRA (now Rio Tinto) and the University of Western Sydney National Leadership Scholarship Program. He has led groups from the Sydney Swans AFL team, Youth Insearch, Camp Dare, the NSW Young Liberals and Father Chris Riley's Youth Off The Streets programs as part of their personal development programs.
He also established The Kokoda Track Foundation to provide health, educational and sporting assistance to the descendents of the 'fuzzy-wuzzy angels' who live along the Kokoda Track. He has also been elected to the Board of the Kokoda Track Memorial Walkway at Concord and is a Trustee of the Anzac Memorial Building in Sydney.
Charlie is a keen sportsman and represented the army in Australian Rules Football, tennis, squash and marathon running. In 1987 he held the NSW ultramarathon record with a distance of 213 kilometres in 24 hours.
Charlie was elected to the Legislative Council in the Parliament of New South Wales in 1995. He represents the Liberal Party and has served as the Shadow Minister for Public Works and Services and Shadow Minister for Western Sydney. He was re-elected in 1999.
Charlie Lynn talks about:
Leadership
Kokoda Adventure Leadership Program
Outback Survival Training
Politics
Client testimonials
Charlie is an excellent speaker ... thought provoking and should be recommended wherever and whenever possible. He is a great narrator and his delivery of events in Australia's history should be heard by many more Australians!
-Utag Travel
Like the Owen Stanleys he has come to respect, Charlie Lynn stands defiantly as a barrier between success and failure, tempting the weak to strive and the strong to push harder.
-Prudential Insurance
Stirring Stuff! Charlie Lynn has his audience laughing, crying, and spellbound.
-National Business Bulletin