Bob Downe (Mark Trevorrow)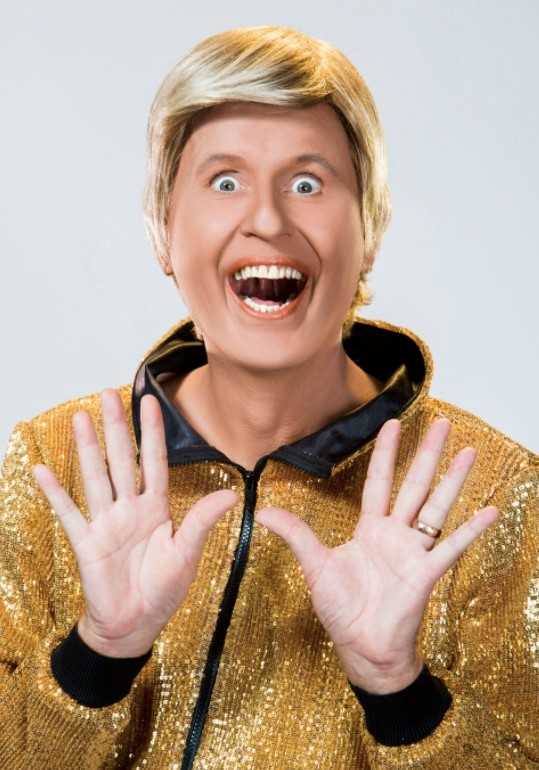 The Prince of Polyester
Bob Downe is one of Australia's most loved and enduring comedy characters, the creation of journalist, comedian, actor and broadcaster Mark Trevorrow.
Born in Melbourne, Mark trained as a journalist at the Herald Sun from 1977-81.
He moved to Sydney in 1982 with the success of his cabaret group The Globos, who enjoyed two National Top 20 singles, 'Tintarella di Luna' (1982) and 'The Beat Goes On' (1983), hosting COUNTDOWN twice, along with multiple TV appearances including Mike Walsh, Don Lane and Hey Hey It's Saturday.
Mark created Bob Downe in September 1984 at the Glebe Food Fair in Sydney, and has toured the world as the Prince of Polyester ever since – including a nomination for Best Newcomer at the inaugural Melbourne International Comedy Festival (1987), a Glasgow Mayfest Award (1993), consecutive Melbourne Green Room Awards for Best Cabaret Artiste (1999 & 2000), five sellout Sydney Opera House seasons and 18 Edinburgh Fringe festivals. In 2013 he was presented with another Green Room Award, for Lifetime Achievement in Cabaret.
Bob's multiple Australian and U.K. television credits include hosting the Sydney Gay & Lesbian Mardi Gras Parade a total of nine times. Other TV credits include hosting Karaoke Dokey (Foxtel, 2007), The Bob Downe Show (TV1/Foxtel Australia, 2000-01), Fabulous, Famous & Forgotten (Network Ten, 2000), Bob Downe All Over Britain (BBC/UK Play, 1998), The Bob Downe Special (ITV UK, 1996), The Royal Variety Performance (ITV, 1995) and Bob Downe Under (LWT, 1991).
Bob has been headlining regularly since 2016 on P&O Comedy Cruises around Australia and NZ.
Meanwhile, since 2002 Mark has established a parallel career singing, acting and broadcasting as himself, starting in 1999 with Good News Week (ABC TV & Network Ten). His nostalgic documentary/talk series The Way We Were (ABC TV, 2003 & 2004) was a ratings winner on Australia's national broadcaster and he was heard regularly presenting Evenings on ABC Radio in Sydney and nationally.
Mark has also appeared as a recurring character ('Darryl' the menswear salesman) in Australia's most successful comedy series, Kath & Kim (Netflix, ABC TV & Seven Network, 2002-2007, also BBC2 & Sky UK) and in the feature film Kath & Kimderella (2012).
More recently Mark has been performing in cabaret – both as himself in his show Singing Straight (an evening of jazz, pop and show standards and stories) and in his touring show Viva Bob Vegas.
Bob Downe performs as:
Bob Downe – The Prince of Polyester, Murwillumbah's original perfect party animal, always makes a function swing! Guests literally squeal with delight at a surprise appearance by Bob Downe, Australia's greatest emcee – cheeky and irreverent, yet warm and funny.
Quite simply, Bob Downe never fails to deliver a light-hearted yet totally professional focus to an evening. He's just as good with his self-contained solo set: 20 to 40 tailored minutes of high-energy disco classics and hilarious standup. He's one of Australia's most-loved comic characters – guaranteed, gilt-edged fun. "And If your guests don't hit the dance floor, then I'll go and get 'em!" promises Bob.
Mark Treverrow with the John Thorn Trio – The man behind Bob Downe comes out to sing! Mark Trevorrow adds a new string to his bow with "an impeccably chosen set of pop and show standards, backed by an equally impeccable jazz trio" (Sun-Herald).
After all the years of comic hysteria, can Mark seriously sing? Here's the Sydney Morning Herald's jazz critic: "Trevorrow in exceptional voice… completely convincing… even moving" (John Shand).
A new ABC TV series, The Way We Were and an album, It's About Time, is further proof, if any was needed. Direct from the Sydney Opera House Studio and the Famous Spiegeltent, a tasteful and stylish musical set running from 20 minutes to an hour and more, with Mark and his music director and pianist John Thorn (plus locally-based bassist & drummer).
Client testimonials
The Entertainer (Mark) ad-libbed jokes, audience interaction, belting vocals, zany dance steps, tender ballads and name-dropping anecdotes all jostled each other, hustling away any chance of a dull moment …..Whether serious or madcap, almost every line was delivered direct to the eyes of an audience member, yet Trevorrow's innate likeability allowed him to do this without any sense of confrontation.
-John Shand, Sydney Morning Herald