Bill McDonald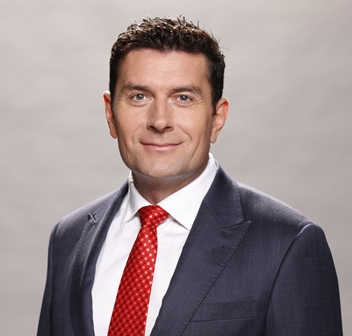 Sport and News Presenter
Born William Allan McDonald, The Brisbane-born news presenter began his journalism career at Queensland Newspapers in 1984 as a casual publisher, and then moved to 4BK as a news copywriter in 1986.
His entry into television arrived in 1987 when he was appointed Channel Ten Toowoomba's sports editor / anchor / reporter.
His next appointment was as Brisbane sportscaster at the Seven Network, giving him the opportunity to do sideline commentary for national AFL coverage including several Grand Finals. He was also one of Sportsworld's feature reporters, the news and sports presenter, and later became a host and reporter of "The Motor Show".
Bill joined Network Ten's First at Five News team in March 1996 as Sports anchor, producer, reporter, NBL commentator and AFL boundary rider.
In 2003, Bill was promoted to co-anchor Ten's Newshour. Bill currently presents Brisbane's Ten News at Five with Georgie Lewis.
On radio Bill is a regular AFL commentator/reporter and co-host of a weekly Sports show. In 2005, Bill also wrote popular sport-themed columns in various publications and for four years was Queensland AFL correspondent for the Melbourne Age newspaper.
When not speaking or writing about news and sport, Bill enjoys reading, the beach, running and keeping fit, and spending time with wife Julianne and three sons Jordan, Hamish and William.