Big Brother Little Brother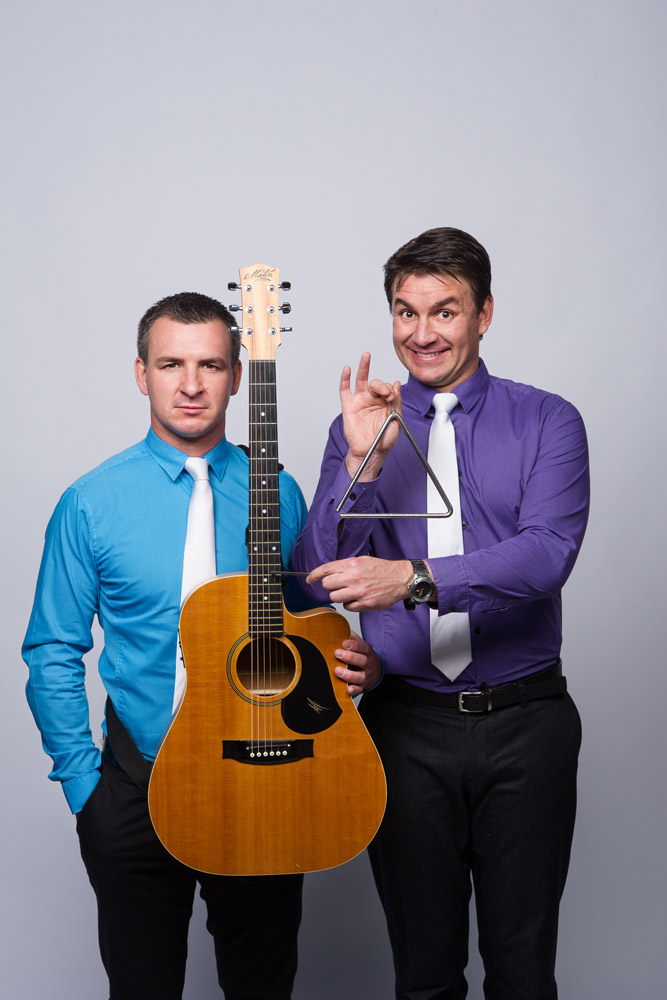 Musical comedy duo - two brothers, one guitar and a triangle
Featuring brothers Adam and Mathew Hedditch, Big Brother Little Brother is a hilarious musical comedy duo that is guaranteed to liven up any corporate, sporting or social event.
Half Polish, half Scottish, half Aussie, Big Brother Little Brother combine punchy gags with even funnier songs that'll have the audience singing along and in stitches. Like a classic Aussie rock song sung in Polish or a totally outrageous version of the Scottish National Anthem. They even perform a 'must-watch' airline safety demonstration.
Obviously not your normal boy band, Big Brother Little Brother provides clever performances that are full of good clean fun, laughter, cheek, energy – and music.
The boys started performing in 2001 and in 2002 won a prestigious national comedy competition. Since then they've appeared on numerous television shows, events and radio spots. They've even performed at Parliament House and gone to Iraq and Afghanistan three times to perform for thousands of Australian and Coalition troops.
They have appeared on The Comedy Network, on numerous other television shows, events and radio spots and are regulars on The Footy Show, for which they received an award in 2005.
If you're looking for something different for your next event, these highly entertaining corporate comedians should be on your list. With both musical numbers and skits, Big Brother Little Brother specialise in getting even the most serious of audiences laughing at their antics.
Client testimonials
They were really fantastic. I loved the Scottish National Anthem.
-Subaru Australia
Big Brother Little Brother had everyone rolling in the aisles.
-Nestle Peters
Big Brother Little Brother delivered a hilariously funny performance, enjoyed by all our staff and athletes. Their level of language, humour and care taken with sensitive issues was successfully executed.
-Australian Institute of Sport
They were funny, clever and excellent ambassadors for Australia.
-Australian Defence Force
Big Brother, Little Brother were very entertaining; they had all our guests in stitches. I would recommend them for any work or corporate function.
-LWP Property Group Pty Ltd
They read the crowd perfectly and had everyone in stitches.
-Waste Management Association of Australia