Ann Sherry AO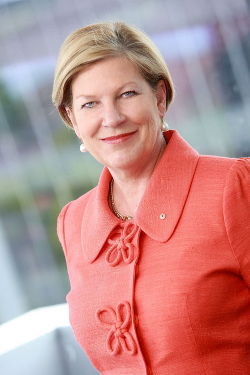 CEO & Leader of Cultural Change
Since becoming the CEO of Carnival Australia in 2007, Ann Sherry has transformed the cruise industry and growth has more than doubled. Carnival Australia is a division of Carnival Corporation, the world's largest cruise ship operator which owns P&O Cruises, Princess Cruises, Costa, Cunard, Holland America and Seabourn.
Prior to this, Ann Sherry held senior management roles with Westpac for 12 years, including Chief Executive Officer, Westpac New Zealand, CEO of the Bank of Melbourne and Group Executive, People & Performance.
During her time in the banking industry, Ann Sherry led deep cultural change in terms of both staff and customer relationship management.
Prior to Westpac, as First Assistant Secretary of the Office of the Status of Women, Ann advised the Prime Minister on policies and programs to improve the status of women in Australia and was Australia's representative to the United Nations forums on human rights and women's rights.
In addition to her executive roles, Ann is a non-Executive Director of ING Direct, Chair of the Queensland Public Service Commission and Deputy Chair of the Tourism & Transport Forum. She is a Director of Jawun – Indigenous Corporate Partnerships, Australian Indigenous Education Foundation (AIEF) a Member of the Advisory Council for the National Disability Insurance Scheme, a Member of the Council of the Australian National Maritime Museum and the Australian Sports Commission.
Ann is a Fellow of the Institute of Banking & Finance and a Fellow of the Institute of Public Administration.
In 2003 Ann was awarded a Centenary Medal by the Australian Government for her work providing banking services to disadvantaged communities.
In 2004 Ann was awarded an Order of Australia for her contribution to the Australian community.
In 2009, Ann was nominated as one of the Top 15 Women in Business in the world by the Business Women's magazine, Pink.
Ann's extensive corporate experiences provide a fascinating insight into the problems facing any large organisation trying to introduce change.