Amanda Johnstone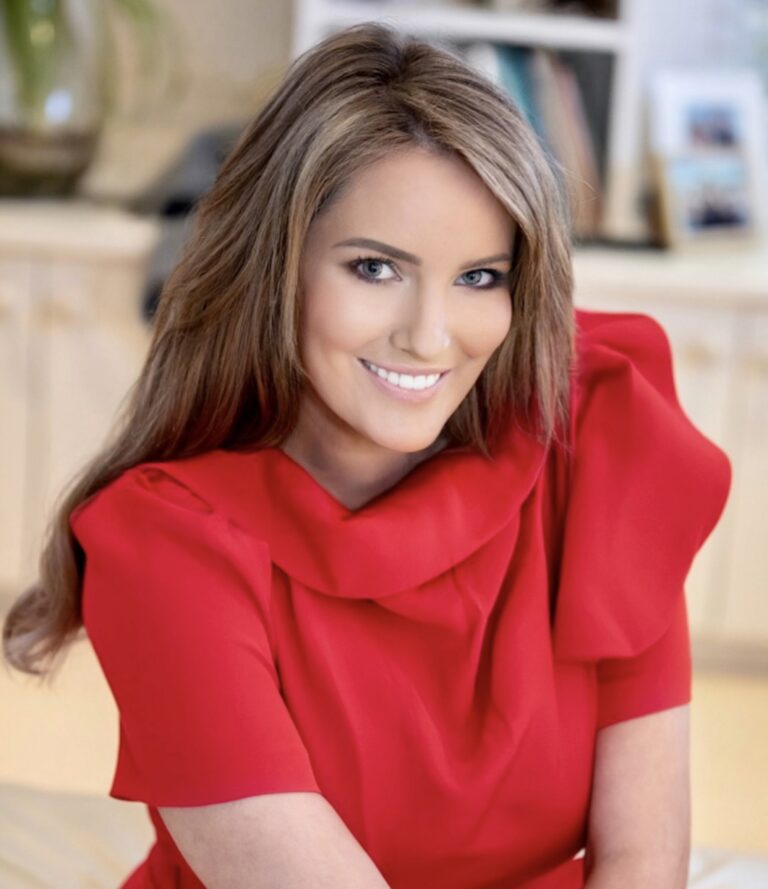 Award Winning Technology CEO, Inventor and Keynote Speaker
Amanda Johnstone is one Australia's most globally recognised AI technologists and high technology communicators. TIME have awarded her as a Next Generation Leader for her work in social impact technology and The CEO Magazine awarded her as Start-up Executive of the Year. In 2023, LinkedIn awarded her as a Top Voice in Artificial Intelligence.
She is the Founding CEO of Transhuman, a research and development lab that invent and commercialise technologies in the field of human to computer interface and the ethical storage of electronic human data. She doesn't just talk about the positive impact of technology; she creates proprietary technologies with Fortune 500 companies. She leads her team of scientists, doctors, researchers, and technologists, who are each the most disruptive in the world in their category, with backgrounds including GE, NASA, Apple and Google.
She a trusted voice and has been a subject matter expert on emerging technologies for brands including YPO, Stanford, Google, KPMG, The Australian Digital Health Agency, University of Technology Sydney, Optus, Commonwealth Bank, Zoom and more.
Her social audio channel, where she hosts dialogue with the top technical leaders in the world has 300,000 subscribers and has delivered emerging technology content to tens of millions of listeners.
Amanda Johnstone talks about:
Keynote 1: THE FUTURE OF TECHNOLOGY:
The CEO of Microsoft, Satya Nadella, recently stated: "all companies are software companies".
Are you prepared for 2022 and beyond? Technology CEO and futurist Amanda Johnstone will make sure you won't get left behind.
"Armed with influential thought-leadership skills and a tenacious drive to transform the role of technology, it is Amanda who is propelling the future wellbeing of the human race." – The CEO Magazine
Johnstone's proprietary work in artificial intelligence has her exposed to the forefront of research and development in arenas including the Internet of Things, the Internet of Bodies, Web3, Connected Cities, DeFi, Virtual Reality, 3D Modeling, Data Ethics, Innovation, Robotics, Digital Health, Decentralisation, Future Forecasting, Augmented Reality, Gamification, Space, Biometrics, NFT's, Technophilosophy, e-Commerce, Communications, Tokenomics, Wearables and Implantables, Social Media, The Creator Economy and Human-Machine Symbiosis.
As a technologist, she is perfectly poised to deliver inspirational and educational messages about STEM.

Keynote 2: MODERN LEADERSHIP
"What if success was measured in your ability to make others believe in themselves" – Jin Yu
Amanda is living proof that the next generation of leadership is shaped by empathy, diversity and inclusion.
She shares traits with the most disruptive global entrepreneurs. She dares to lead with purpose to change the world around her. She understands that most are not born with a visionary mindset, and leads by example to effectively help individuals and organisations reach new heights.
Amanda addresses intersectionality, and demonstrates what leaders must do now to ensure their teams feel valued and have a sense of social economy.
Amanda's success and acclaim in business and modern leadership have placed her at the forefront of changemaking in areas including Meta Leadership, Sustainable Development Goals, Vulnerability, Inclusion, Diversity, Productivity, Intrapreneurship, Entrepreneurship, Empowerment, Raising the Next Generation of Leaders and Individual Wellness.
As a dynamic leader, Amanda's leadership frameworks encompass Elite Human Behaviour, addressing and solving concerns including Mental Ill-Health, Wellbeing, Sleep, Performance Mindset, Teamwork and Nutrition. She provides custom end-to-end strategies for Peak Performance with her evidence-based Neuroscience and Psychology team, Combatting Executive Burnout and Navigating Connectedness in the Remote Workplace.
Keynote 3: DEMYSTIFYING THE METAVERSE AND WEB3
In 2022, the number of active users in the metaverse hit an all-time high of 400 million. Due to the fact that its virtual worlds will "infiltrate every industry in some way," according to JP Morgan, the metaverse will present a $1 trillion market opportunity over the next few years. No one is more qualified to guide your team into the Web3, the metaverse, and the internet's exciting next phase.
Amanda is a world leader who is uniquely skilled in Web3, having filed her first patent in the field nearly a decade ago. Transhuman, her business, was established with the goal of developing future technologies enabling seamless connection with humanity eight years ago.
She can easily explain concepts like tokenization, NFTs, and the blockchain because she has a wealth of knowledge about how various industries, including sports, advertising, finance, real estate, online education, healthcare, virtual goods, gaming, media, arts, philanthropy, and human rights, are changing. She collaborates with companies in these categories to train their teams and introduce Web3 products and services or to take their Web3 products to market.
Be astonished and delighted by the creative ways your organisation can investigate and develop its brand in the metaverse.
Keynote 4: EMPATHY AND ROLE MODELING VULNERABILITY – A LEADER'S RESPONSIBILITY
Empathy and role modeling vulnerability must be on the front page of every modern leader's playbook. Only when diverse perspectives are included, respected, and valued can we start to get a full picture of the world: who we serve, what they need, and we can successfully meet people where they are.
Daring leaders fight for the inclusion of all people, opinions, and perspectives because that makes us all better and stronger. That means having the courage to acknowledge our own privilege, and staying open to learning about our biases and blind spots. It is also listening, centering, and honoring stories that reflect experiences that are different from our own.
Amanda role models the perfect balance between research and positioning an organisation at the forefront of innovation. She discusses how to combine structure and science with being the first to market and building effortless community using evidence-based principles, neuroscience and co design for a more human approach to technology.
Courage is listening, learning, unlearning, knowing when to lead, and knowing when to let others lead. Amanda will share her evidence based strategies and frameworks on how you can optimise these learnable and buildable skills in emotional intelligence.
Keynote 5: THE FOUNDER'S JOURNEY – PREVENTING SUICIDE ONE SWIPE AT A TIME
At the tender age of 18, after co-financing and co-founding a successful retail chain in Tasmania, Amanda was left at a crossroads. She had experienced self made success, acclaim, and mentorship at a young age in retail, but a human element was missing. Following the loss of some friends to suicide, she participated in a mental health training course, leading her to manage a suicide prevention retreat for young people.
Fast forward to 2015, living in Vaucluse, Australia – alongside a notorious suicide hotspot, "The Gap", where she would hear the police rescue and helicopters multiple times each week rescuing those who had given up hope, Amanda took action to help. She decided to turn an SMS check-in method she used to care for friends who were battling depression into an app, recruiting some of the leading public health services and professionals in the world.
The result: a world first, award-winning daily check-in and peer support app which now prevents suicides in 87 countries which has been recognised by TIME, GSMA and The CEO Magazine. In this keynote, Amanda shares her inspiring journey of grit and determination, alongside the milestone moments that taught her how to overcome adversity, create resilience and inspire others.
Her Founder's Journey keynote is a favourite in the media and on stage that always entertains and inspires audiences.
Keynote 6 – AI AND CHATGPT
As a captivating keynote speaker and CEO of an AI company, Amanda has a unique ability to explain AI and ChatGPT to an audience in an informative yet engaging way. 
Her experience leading businesses combined with her knowledge of artificial intelligence gives her the unique perspective needed to discuss these topics in detail while keeping the audience interested. What sets her apart from many other business speakers is that she doesn't just talk about AI, she owns an AI company, advises two others and holds patents and products in the area.
With her dynamic presentation style, Amanda can help audiences understand how AI is transforming their industry and what ChatGPT offers as a powerful tool for creativity, growth and customer engagement.
Keynote 7: WOMEN IN LEADERSHIP:
International Women's Day states: "We can all challenge gender stereotypes, call out discrimination, draw attention to bias, and seek out inclusion." 
Amanda's mantra is simple, but powerful:
"Only when diverse perspectives are included, respected, and valued can we start to get a full picture of the world: who we serve, what they need, and how we can successfully meet people where they are."
In her keynote, Amanda will address intersectionality and demonstrate what individuals can implement now to ensure their teams feel valued and have a sense of social economy. Her guidance will indicate ways your team can #EmbraceEquity in 2023 and beyond. Amanda will communicate fresh and inspiring methodologies and demonstrate how the rise of women is not about the fall of men.
Daring leaders fight for the inclusion of all people, opinions, and perspectives – because it makes us all better and stronger. Inclusion also means having the courage to acknowledge our own privilege and to stay open to learning about our biases and blind spots in gender equity. For men, it also means listening and honouring stories that reflect experiences that are different from their own.
Courage is listening, learning, unlearning, knowing when to lead, and knowing when to let others lead. Women thrive when men meet women where they are. It's beyond paperwork, lunches, fancy words and reports; all humans thrive when they feel truly seen.
Amanda will reference and share her organisation's proprietary award-winning, evidence-based strategies and frameworks. She will use easy-to-implement examples showing how each person in your organisation can utilise these learnable and buildable skills to enhance wellbeing and morale in the workplace.
Empathy and role modelling vulnerability must be on the front page of every modern leader's playbook. These qualities make us more humane and are what created the sense of community and affinity we experienced during lockdown during a hybrid workplace.
The outcome:
An increased spirit of togetherness and community. A new, invigorated sense of self within each individual. A celebratory atmosphere among your team. Brand new frameworks, practical tools, empowerment and evidence-based neuroscience as inspiration this International Women's Day.
Amanda is available for a dynamic, interactive keynote crafted specifically to empower and educate teams this IWD and beyond.
Keynote 7: TRANSHUMANISM AND THE INTERNET OF BODIES
What it means to be human is evolving exponentially. We are on the precipice of the integration of tools that are radically changing the way we both create and absorb information.  It goes beyond AI, ChatGPT, virtual reality and holograms. The next iteration of future of influence, information deployment and retention will be led by Transhumanism and The Internet of Bodies.
Attention is everything. Technology has already been built and deployed to measure levels of comprehension, to deliver tailored content to keep audiences engaged using human-machine symbiosis in real time. Amanda will teach you how to see what is coming next, capitalise on it and how to be first to market.
Takeaways from the session:
Be at the cutting edge of the future of education and communication.

Understanding how facial and emotion recognition software, alongside body and brain to computer interfaces are already being deployed in events and schools globally and how you can be the first to market in Australia.

The ethical and societal considerations of Transhumanism.